News and Events
Colorful Exhibit Features Stunning Backdrops and Clothing
Posted 2/11/21 (Thu)
By Kim Jondahl, Audience Engagement & Museum Division Director
"Very nice, but does it come in black?"
When our team first considered creating a fashion exhibit in 2019, I envisioned a subdued gallery of elegant black-and-white backdrops intermingled with historical clothing. Monochromatic and chic. But then along came David L. Newell.
David joined us in the fall of 2019 as a creative and accomplished exhibitions manager. It didn't take long for my "subdued gallery" vision to fall to the cutting room floor. He'd already been there, done that. During our initial walk through the exhibit space, David glanced at the gallery's soaring charcoal gray walls and said, "We need some color in here."
Little did I know that he meant COLOR.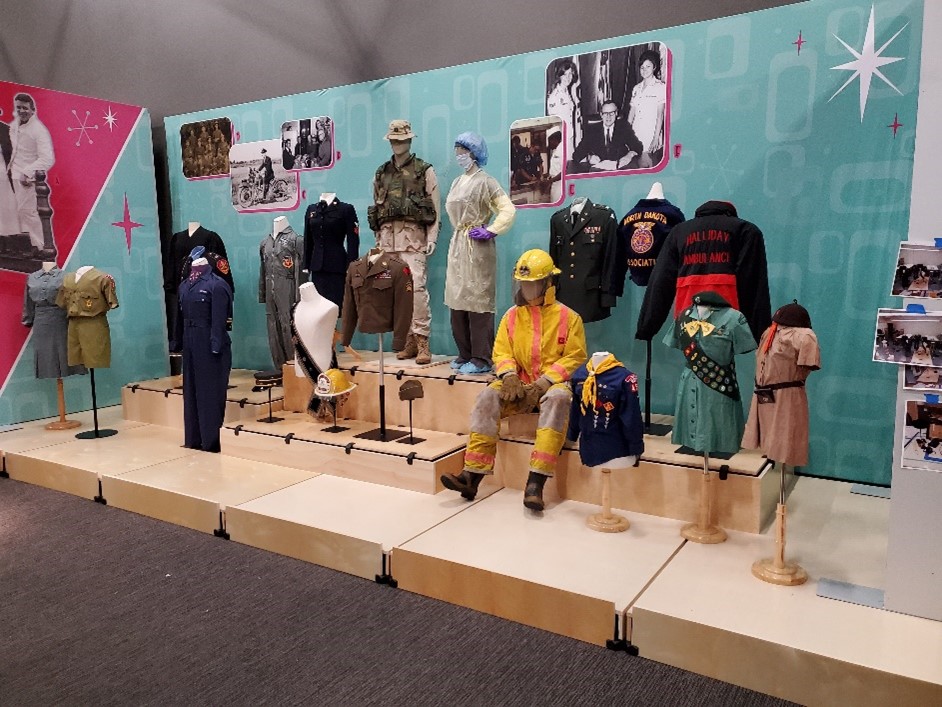 Colorful backdrops accent the clothing and accessories in Fashion & Function: North Dakota Style.
Color influences always play a major role in our initial stages of exhibit planning. Whether bright or muted, carefully curated hues should bring the artifacts to life and influence the visitor experience. Working from David's initial vision, our team continued to add creative ideas to the mix. The result? A vibrant exhibition featuring a midcentury modern vibe of the 1950s. It's delightful. Think bubble gum pink. Lime green. Eye-popping yellow. Bright orange. Bold and optimistic, a full palette of midcentury modern colors is strategically placed to spatially guide the visitor through each themed area.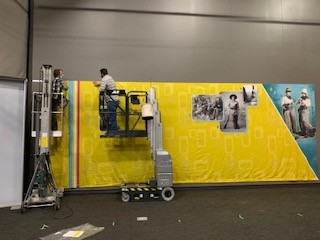 New Media Specialist Andrew Kerr (left) and Head Preparator Bryan Turnbow hang one of 19 large mural backdrops. Our new media specialist team including Kerr, DeAnne Billings, LaRae Monroe, and supervisor Angela Johnson designed the many backdrops, panels, and coordinating elements of this exhibit.
The exhibit design is bold, contrasting with the soft, earthy tones of some early historical garments. What is your favorite color to wear and why? What life experiences have influenced your favorite color choices? With 430 artifacts included in this exhibit, you'll find plenty of pieces to pique your interest. Enjoy some of my favorite pops of color showcased in the artifacts and backdrops.
"When in doubt, wear red." —Bill Blass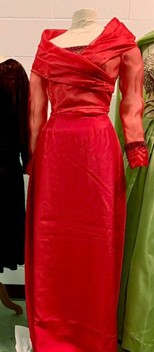 First Lady Mikey Hoeven's gorgeous 2001 inaugural ball gown, created by North Dakota designer Casey Paul,
would still turn heads today. SHSND 2011.19.4 -.5
"You can do anything that you wanna do, but uh-uh, don't step on my cowboy boots." —Hank Williams Jr.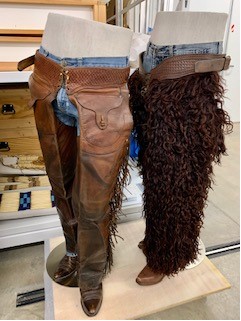 These brown cowboy boots, left, are special to me, as my father often wore them as a nod to his "farm kid" heritage. SHSND 2020.54.1.
"I believe in pink." —Audrey Hepburn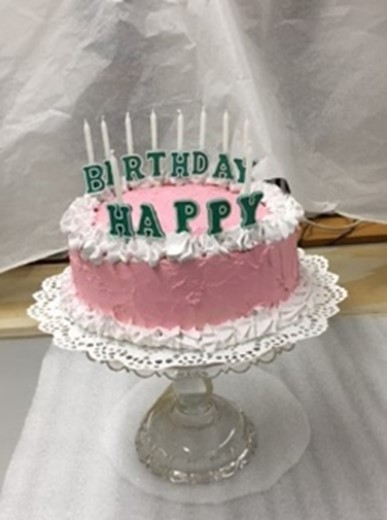 Exhibitions Manager David L. Newell recently crafted this cake from plaster.
"It's intentionally a little lopsided, to resemble a homemade cake that mom made for a child's party in the '60s," he explained.
"How lovely yellow is! It stands for the sun." —Vincent Van Gogh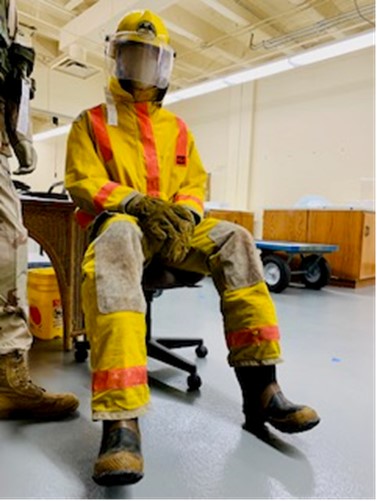 This turnout gear was worn by Fire Chief John Sakry of the Milnor Volunteer Fire Department.
SHSND 2014.81.1-6
"Green is the prime color of the world, and that from which its loveliness arises." —Pedro Calderón de la Barca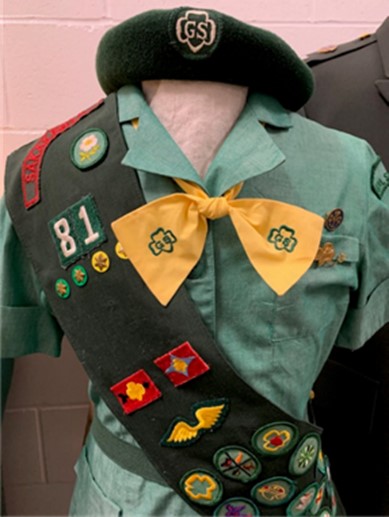 Whether you were a Girl Scout or buy their cookies, this green uniform is an icon of American culture.
SHSND 2019.28.7
"The best color in the world is the one that looks good on you." —Coco Chanel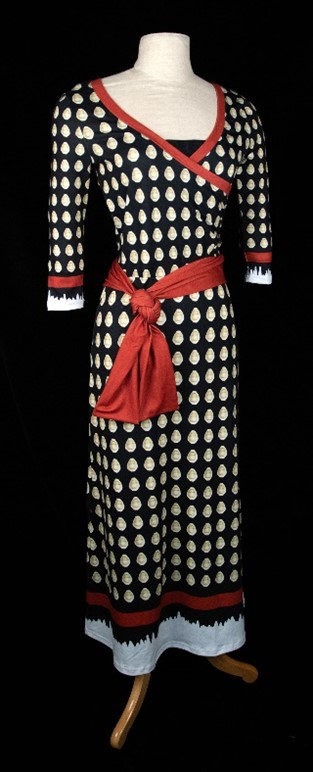 The cowrie shell design on this beautiful 2019 dress designed by Lauren Good Day of Bismarck is a contemporary twist on a traditional use of these shells for clothing embellishment. Good Day is a multiple award-winning Arikara, Hidatsa, Blackfeet and Plains Cree artist. SHSND 2020.16.1.
"I'm just trying to change the world, one sequin at a time." —Lady Gaga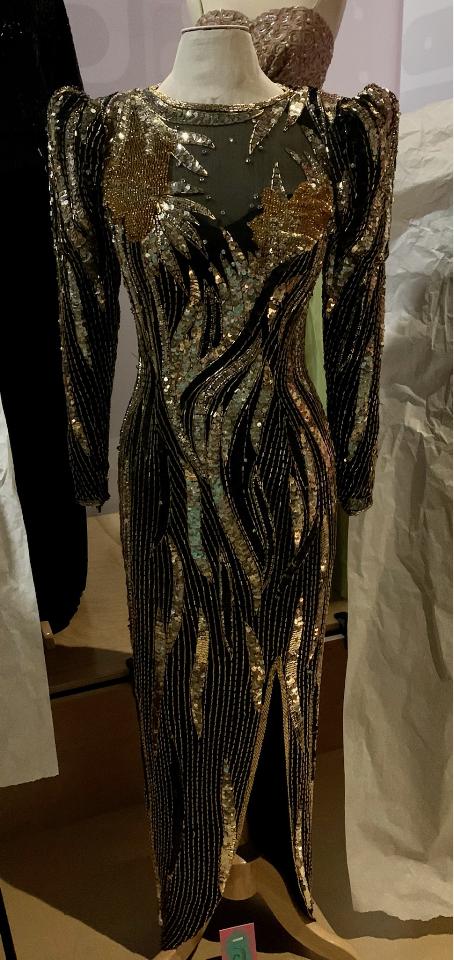 First Lady Nancy Schafer said her husband, Ed, selected this lovely gown for her to wear to the governor's inaugural ball while they were shopping in 1992. SHSND 2020.52.1.
"Orange is the happiest color!" —Frank Sinatra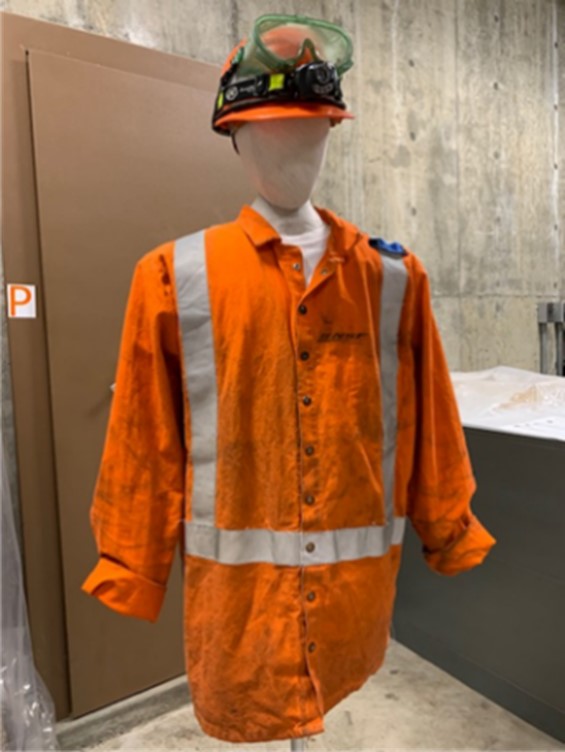 This orange safety jacket and hard hat were worn in the
Burlington Northern Santa Fe Railway yards of Mandan. SHSND 2017.6.6A
And last, but not least!
"Women who wear black lead colorful lives." —Neiman Marcus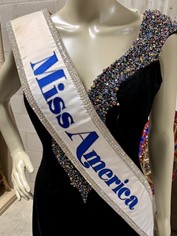 This stunning black dress was worn by North Dakota's first Miss America Cara Mund during her coronation.
Loan courtesy of Cara Mund.
Next Article:
Creating Fashion & Function: North Dakota Style

Previous Articles:
Powwow Panache
An Inside Look, Literally
Not So White Wedding Dress
A 1930s Timeless Dress Still Stuns Today
The Nitty-gritty of Nostalgia
Dressing the Mannequin
Once a Bennie, Always a Bennie
Upcoming Fashion & Function Exhibit Highlights Objects from the Jewish Faith
Hats and Hunting: Fashion and Feathers in Our Museum Collection
Western Symbols Tell Stories of Cattle Culture
Red Berry Woman, Red Berry Style
Spooktacular Fashion: Four Vintage Halloween Masks
Wouldn't It Be Wunnerful, Wunnerful
An Army of Aluminum Mannequins Takes Shape
Miss America's Gown & Wonder Woman Boots Have Arrived!
Fashion & Function: North Dakota Style
If you have items or clothing to be considered as donations to the State Historical Society, go to online donation form, or for more information, contact Melissa at methompson@nd.gov or Elise at edukart@nd.gov.