Spooktacular Fashion: Four Vintage Halloween Masks
Posted 10/26/20 (Mon)
By Kimberly Jondahl, Director of Audience Engagement & Museum Division
This week we're providing a spooktacular look at four Fashion & Function: North Dakota Style artifacts.
Like many people, we're nostalgic about 1960s Halloween celebrations. Remember those inexpensive boxed costumes and uncomfortable masks you'd buy at a local drug store? Most were patterned after popular TV characters like Yogi Bear and Casper the Friendly Ghost. The challenge on a snowy Halloween evening was to squeeze the costume over or underneath a parka.
Who could forget those Halloween masks with their synthetic odor and cutout eyes that never quite lined up with your own, sometimes even cutting into your cheeks? I can still feel those masks' scratchy staples, the pull of the thin rubber band wrapped around my head.
If you celebrated Halloween, do you have a favorite memory? At age 8, I vividly remember my excitement about my homemade black cat costume and bobbing for apples in a tub during the school party. Most kids in my neighborhood carried pillowcases while trick-or-treating. I always had high hopes that a friendly neighbor would drop in Pixy Stix or a homemade popcorn ball.
Enjoy this sneak peek at Yogi Bear, Huckleberry Hound, a black cat, and a Winky ghost mask donated by Susan Odegaard Love. All are thought to have been purchased at the Johnson Variety Store in McVille and used by her family.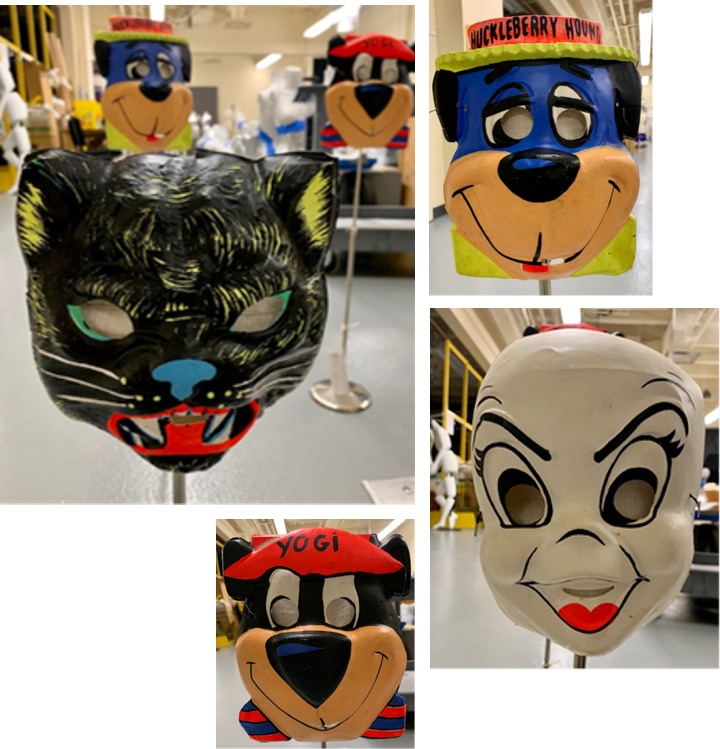 Be sure to "treat" yourself this week! Next week, watch for the reveal of a North Dakota designer's stunning gown worn at the 2019 Grammy Awards.
Fashion & Function: North Dakota Style opens in early 2021.
Previous articles:
Wouldn't It Be Wunnerful, Wunnerful
An Army of Aluminum Mannequins Takes Shape
Miss America's Gown & Wonder Woman Boots Have Arrived!
Fashion & Function: North Dakota Style
Next article:
Red Berry Woman, Red Berry Style
We're currently seeking clothing, games, and other items from the 1960s to today that have North Dakota stories. If you have items to consider donating to the state's museum collections, you'll find an online donation form.