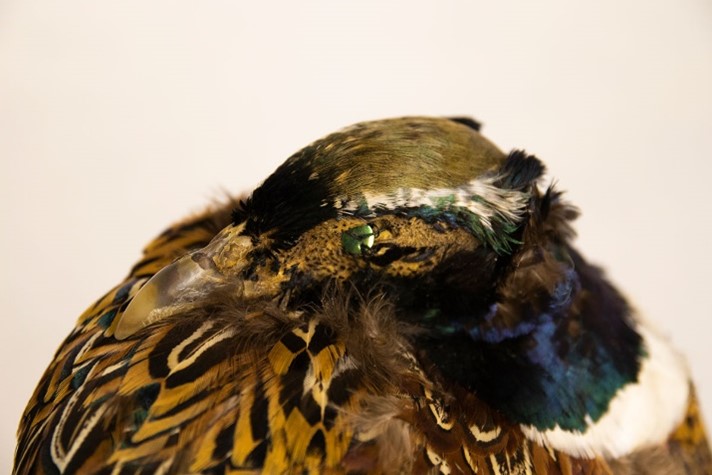 The pheasant was first introduced to southern North Dakota in 1917. At that time, pheasant feathers were becoming popular accessories in the millinery industry. Fashion and Function: North Dakota Style will showcase three women's hats from the state collection that are adorned with pheasant feathers. See the beautiful results and read the fascinating history...
Our upcoming Fashion & Function: North Dakota Style exhibit squeezes quite a collection of stories into the 5,000-square-foot Governors Gallery. One of those stories involves a military scout's buckskin suit. Read more...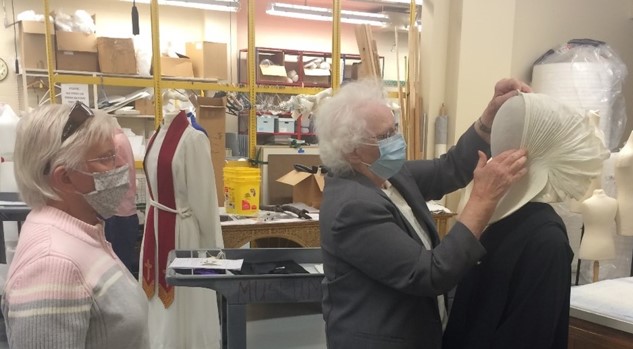 Preparing one outfit for the upcoming Fashion & Function: North Dakota Style exhibit was beyond our expertise. To dress a mannequin in a Benedictine sister's habit, we had to call in some experts. Read more...
In 2008, A. Kirk and Janet Lanterman provided a gift of $500,000 for the "Settlement Era Exhibit" Heritage Center. Kirk died November 1, 2019. "We can never thank him enough for his contributions to the Heritage Center and his other interests in North Dakota," said Marlo Sveen, Foundation Executive Director. "We will never forget and will always miss him." Read more about this generous man...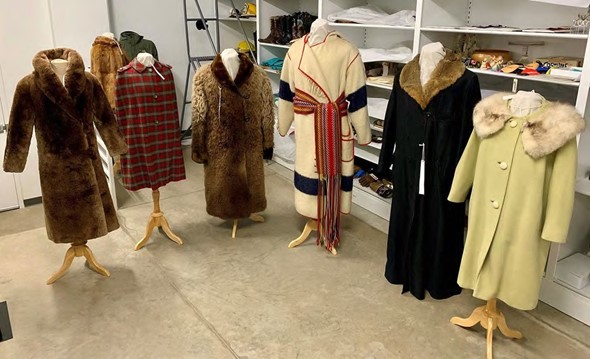 The Audience Engagement & Museum team is busy creating a new exhibit about fashion in North Dakota. More than 120 garments and accessories from the state's collections will tell the story of North Dakota's evolving sense of style. Follow the development of the exhibit.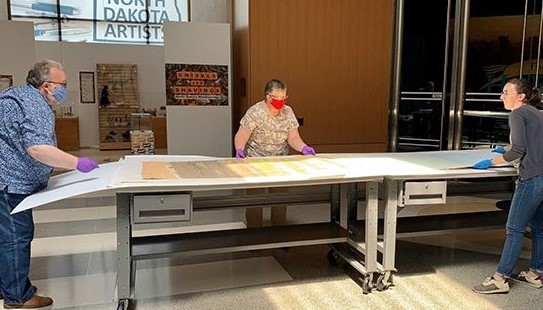 Nothing gets a curator's heart racing with glee like finding a mysterious box on a storage shelf. Recently one particularly large unmarked box was discovered by several Audience Engagement & Museum collections staff. Read more about their discovery.
Located in the North Dakota Heritage Center & State Museum in Bismarck, the Native American Hall of Honor acknowledges Native Americans who have well represented their tribe and culture. Read more...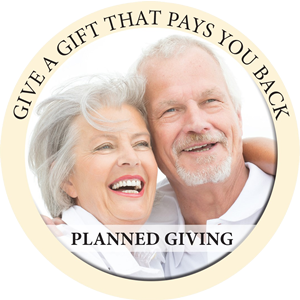 Interested in lowering taxes on your IRA withdrawals? If you are 70½ or older, an IRA charitable rollover is a way you can help us continue our work you realize the benefit this year. Contact Marlo for more information about the benefits of an IRA rollover and how it works: marlo@statehistoricalfoundation.org