Fashion & Function: North Dakota Style
Posted 10/02/20 (Fri)
By Kimberly Jondahl, Audience Engagement & Museum Division Director
Farewell, summer. We're now entering the season of searching through the hall closet for a warm coat to fit over a Halloween costume.
What style of clothing do you transition to as our weather gets chillier? You likely have at least one "go-to" warm coat in your wardrobe to wear while shoveling a path to your grill. And those of us working from home during the pandemic might be sporting more casual wear these days—a dress shirt with plaid flannel pajama pants and slippers to participate in a Zoom conference call. The garments you choose to wear everyday might be heavily influenced by your immediate need for either fashion or functionality.
And speaking of fashion and function, our Audience Engagement & Museum (AEM) team is busy creating a new exhibit about fashion in our state. We recently selected more than 120 garments and accessories from the state's collections to tell stories about North Dakota's evolving sense of style—how our professions, international haute couture, and four seasons all converge to shape our wardrobe choices. Watch for Fashion & Function: North Dakota Style to open in early 2021 at the State Museum in Bismarck.
Our AEM team will be dressing more than 100 mannequins during the coming months, everything from a suit worn by Lawrence Welk to Miss America 2018 Cara Mund's coronation gown to a new dress design by fashion designer Lauren Good Day. This week, we're dressing mannequins at the State Museum for the cold weather section of the exhibit. Check out six coats spanning the decades. Do they spark any memories?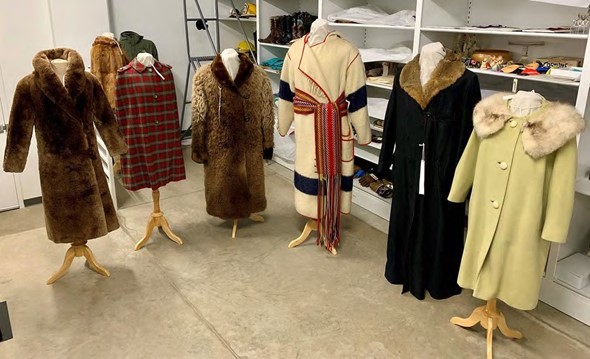 From left:
The State Fur Company of Bismarck fashioned this beaver fur coat in 1934 for Pauline Bay Anderson, a teacher in Hazelton who earned $120 per month. Created from pelts of beavers trapped along the Heart River, the coat cost two months' salary. She wore it only from 1934 to 1935, due to financial reversals caused by the Great Depression. Pauline kept the coat but indicated that she would have felt embarrassed wearing such an expensive coat after she accepted a new teaching position with a salary of $45 per month.
Linda Harmsen of LaMoure County made this stylish plaid wool cape lined with a bronze-colored satin. Linda's cape took second place in 1967 at the state's "Make It Yourself With Wool" competition.
Made from a buffalo killed near Larimore in the 1890s, this warm coat belonged to Ed Torgerson of Walsh County. The fur collar and cuffs were fashioned from beavers trapped in North Dakota. Ed wore the coat in Fairdale, Adams, and Fordville. His granddaughter Cathy Torgerson wrote, "My grandfather wore this coat every winter since he acquired it until his death in Jan. 1957."
This lovely capote, or long coat with a hood, was fashioned from a white four-point Hudson's Bay Company trade blanket sometime between 1900 and 1909. Hudson's Bay point blankets were commonly exchanged for fur pelts. The wool provided substantial warmth. I love that these blanket coats have a long, multi-cultural history. They were worn by some indigenous peoples, French and English trappers and traders, and others.
I love the style of this men's overcoat and wish it could talk and tell us its story. Fred Simpfenderfer, who farmed near Dodge, purchased it around 1918 and wore it for about seven years. The overcoat is long (Fred was 6'3") and would have almost touched the floor while he wore it. Purchased at the Dodge Mercantile, the exterior is made of black satin-weave cloth with a sheepskin lining and beaver fur collar. One feature of interest is the double-breasted front closure with six buttons and six loops on both sides. The coat can be closed in either direction.
This 1960s green wool coat with a white fox collar was worn by Velda Warner of Minot from 1966 to 1969. Note the three stylish ecru-colored plastic buttons down the front. The coat is an original "Diane" brand, purchased from Baders in Minot.
Which of these six coats is your favorite? Watch for more Mannequin Moments next Friday!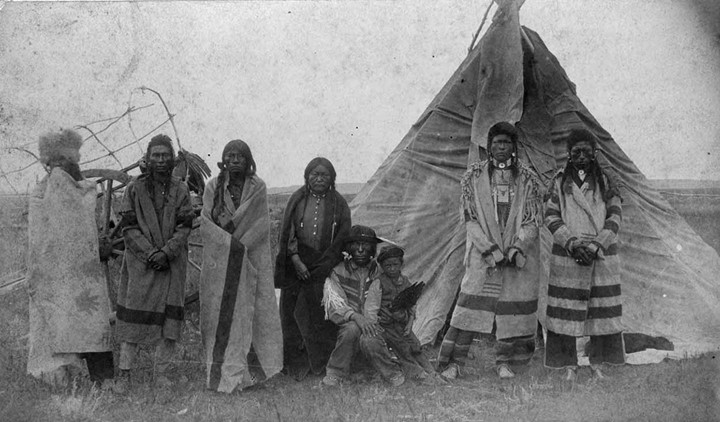 In this image from sometime between 1886 and 1888, notice the two Cree men standing in front of the tipi. Both are wearing capotes made from Hudson's Bay point blankets. SHSND 2002-P-001
We're currently seeking clothing, games, and other items from the 1960s to today that have North Dakota stories. If you have items to consider donating to the state's museum collections, you'll find an online donation form.
Next Article: Wonder Woman Boots Have Arrived!