Miss America's Gown & Wonder Woman Boots Have Arrived!
Posted 10/09/20 (Fri)
By Kimberly Jondahl, Audience Engagement & Museum Division Director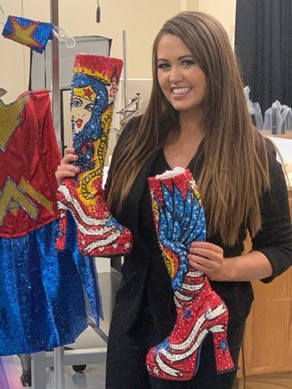 This week, we're preparing mannequins for Miss America's appearance in the upcoming Fashion & Function: North Dakota Style exhibit. Foundation followers are the first to learn that three garments from Cara Mund, Miss America 2018 from Bismarck, will be on exhibit. You'll be able to view her Miss America sash and beautiful black velvet coronation gown, a one-of-a-kind stunner by Jovani. The coronation gown is gorgeous, and Cara's North Dakota story of persistence and grit in attaining her Miss America role is inspiring.
I'd easily say yes to the dress, but I'm also equally captivated by Cara's Wonder Woman costume and the story behind her highly publicized appearance as that superhero. She wore the one-of-a-kind costume, created by international designer Fernando Wong, during the "Show Me Your Shoes" parade on her last full day as Miss America, and its meaning runs deep for her.
Why choose Wonder Woman? Cara says it's about being empowered. During her reign, Cara made international headlines on Aug. 16, 2018, when she publicly expressed concerns about being "silenced … marginalized … ignored … and erased … on a daily basis" by Miss America Organization leadership. Before the parade on her final full day as Miss America, Cara said leadership had instructed her not to wear the Wonder Woman costume. She wore it. The costume, she says, expressed her empowerment to stand up for herself, the position, and for others who would follow her.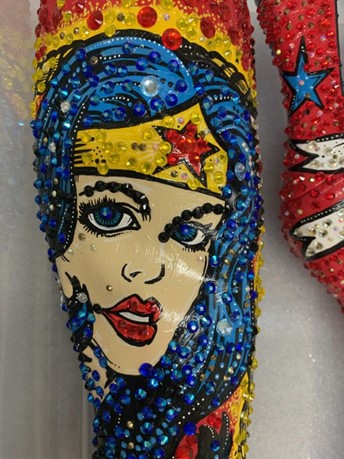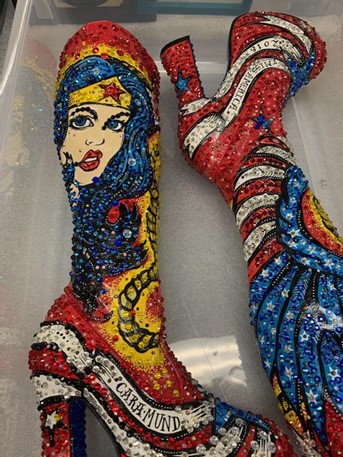 Today, we're sharing part of this costume—the unique Wonder Woman boots. These hand-painted pieces of functional art were created as parade wear by artist and shoe designer Taylor Reeve. My favorite part is the painted face of Cara as Wonder Woman, with rhinestones on the lips and eyes. The rhinestones covering this pair of boots were individually placed by Valley City artist Shane Twamley, which took 25 hours.
Earlier this week, Cara stopped by the North Dakota Heritage Center & State Museum to drop off wardrobe items and visit with some of our staff. Take a look at this short segment of my interview with her.
We're deeply grateful to Cara Mund for generously sharing her story, her goal to empower young women of her generation and her important wardrobe pieces as North Dakota's first and only Miss America. We're keeping the rest of her Wonder Woman costume, her third gown, and her filmed message of inspiration under wraps until you visit the exhibit, opening in early 2021!
Previous Article: Fashion & Function: North Dakota Style
Next Article: An Army of Aluminum Foil Mannequins Takes Shape
We're currently seeking clothing, games, and other items from the 1960s to today that have North Dakota stories. If you have items to consider donating to the state's museum collections, you'll find an online donation form.