History's Heroes
The State Historical Society of North Dakota Foundation continues to seek out History's Heroes in each of the state's 53 counties, who will pledge $10,000 over five years for continued investment in showcasing North Dakota's history. History's Heroes helped the Foundation raise $12 million for the second phase of the Heritage Center's expansion, and they continue to invest in preserving and presenting our state's great heritage.
For more information about the History's Heroes project, download this brochure or contact Foundation Executive Director Dale Lennon at 701-222-1966 or dale@statehistoricalfoundation.org. Follow the lead of some of our History's Heroes and invite your family members to join you in representing your county.
The January 2008 issue of North Dakota Living magazine tells more about the History's Heroes program. To view the article, click on the link below. Download the North Dakota Living article on History's Heroes.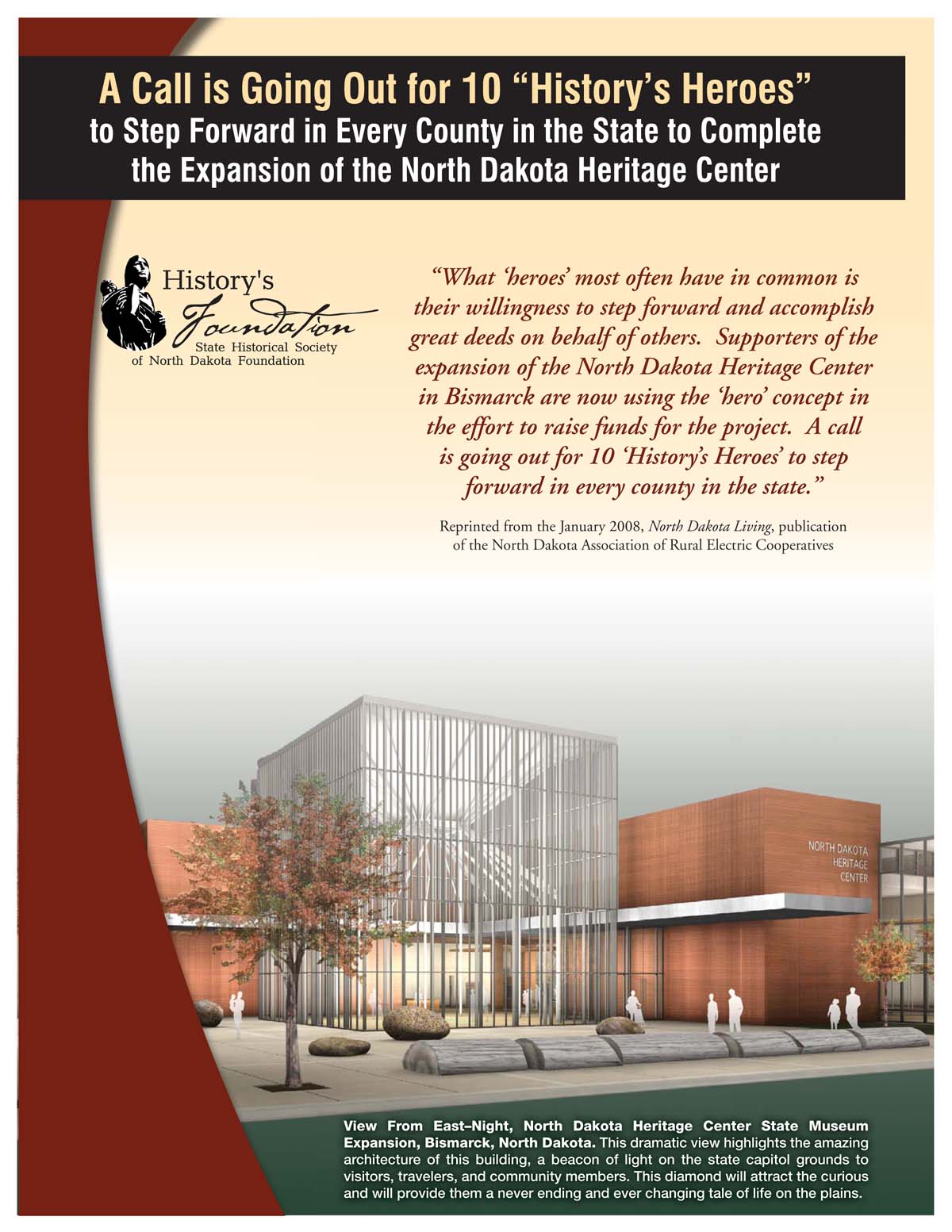 Our History's Heroes and the counties they represent:
Bottineau County
Marvin and Benda Sveen Family

Marlo and Jane Sveen, Bismarck
Oline Kane, Fargo
Kari and Allen Knudson, Bismarck
Betty Hiatt, Tower City
Clarisse and Charles Anderson, Minot
Jean and Lyle Sevre, Wildrose
Margaret and Roger Nelson, Fargo

Norman and Gladys Hofland Family

Connie Hofland and Craig Johnson, Bismarck
Jane and Marlo Sveen, Inver Grove Heights, MN
Susan Hofland, Minot
Dan and Barb Hofland, Fargo
Marianne Hofland, Bismarck
Rheta Beaver, Kirklin, IN
Donna and Stan Engel, Cedar Falls, IA
Burke County
Mike Gustafson, Kindred

Mike Gustafson, Kindred -- Edward Keller Family
Carol Jean Larsen, Bismarck
City of Portal
Burleigh County
Marian Fruh, Bismarck
Joan Klemer, Bismarck
Betty Mills, Bismarck
Hollis Nappen, Bismarck
John Sakariassen, Bismarck
Helen Sorlie, Bismarck
Fern Swenson, Bismarck
Cass County
Governor Jack and Betsy Dalrymple, Casselton
Mike Gustafson, Kindred
Don Haugen, Fargo
Richard Kloubec, Fargo
Matthew Mohr, Fargo
Lynn and Joyce Overboe, Kindred
Divide County
John Andrist, Crosby
Mike Unhjem, Fargo
Dunn County
Emmons County
Grand Forks County
Governor Al and Barbara Olson, Chanhassen, MN
Hettinger County
Virginia Nelsen, Bismarck
TC and Johanna Nelsen Family

Virginia Nelsen, Bismarck
Katherine Schafer, Bismarck
LaMoure County
F.C. Humphrey, Pocatello, ID
Logan County
Alvera Bergquist, Bismarck
McKenzie County
McLean County
Morton County
Robert and Lewista (Hanley) Paris Family

Jack and Kristin Paris, Mandan

Earl Setterlund, Mandan
Ann Jenks, Bowling Green, OH
Nelson County
Ramsey County
Olav and Ruth Bye Family

Duane Bye, Bismarck
Garry Bye, Cambridge, MN
Ann Tuset, Cambridge, MN
Stark County
Kenneth P. and Mary Wherley Mann Family
Pat Grantier, Mendota Heights, MN
Jack Olin, Dickinson
Paul Steffes, Dickinson
Stutsman County
A.R. Todd, Jr. and Keely Todd
Art Todd, III and Barb Lang, Jamestown
Cindy and Jim Tanner, Denver, CO
Towner County
Governor Al and Barbara Olson, Chanhassen, MN
Traill County
Lynn and Joyce Overboe, Kindred
Walsh County
Jon and Jeannen McMillan, Fordville
Ward County
Glenneys and Norma Berg, Minot
Robert and Deanne Horne, Fargo
Senator John and Mikey Hoeven, Bismarck
Williams County
Cyndy Aafedt, Williston
Marv Kaiser, Prescott, AZ
Donna Mae Skistad, Tioga
Other History's Heroes
Brad Miller, Bismarck
Bruce and Julie Schwartz, Bismarck
David Sprynczynatyk, Bismarck
Jim Poolman, Bismarck
Mark and Claudia Thompson, Bismarck
Merl Paaverud, Bismarck
Rick Becker, Bismarck
Tom and Katie Hutchens, Bismarck
Craig Sommerville -- Sommerville Wilson, Arden Hills, MN
Michael Johnson, Denver, CO