News and Events
Red Berry Woman, Red Berry Style
Posted 10/27/20 (Tue)
By David Newell, Exhibitions Manager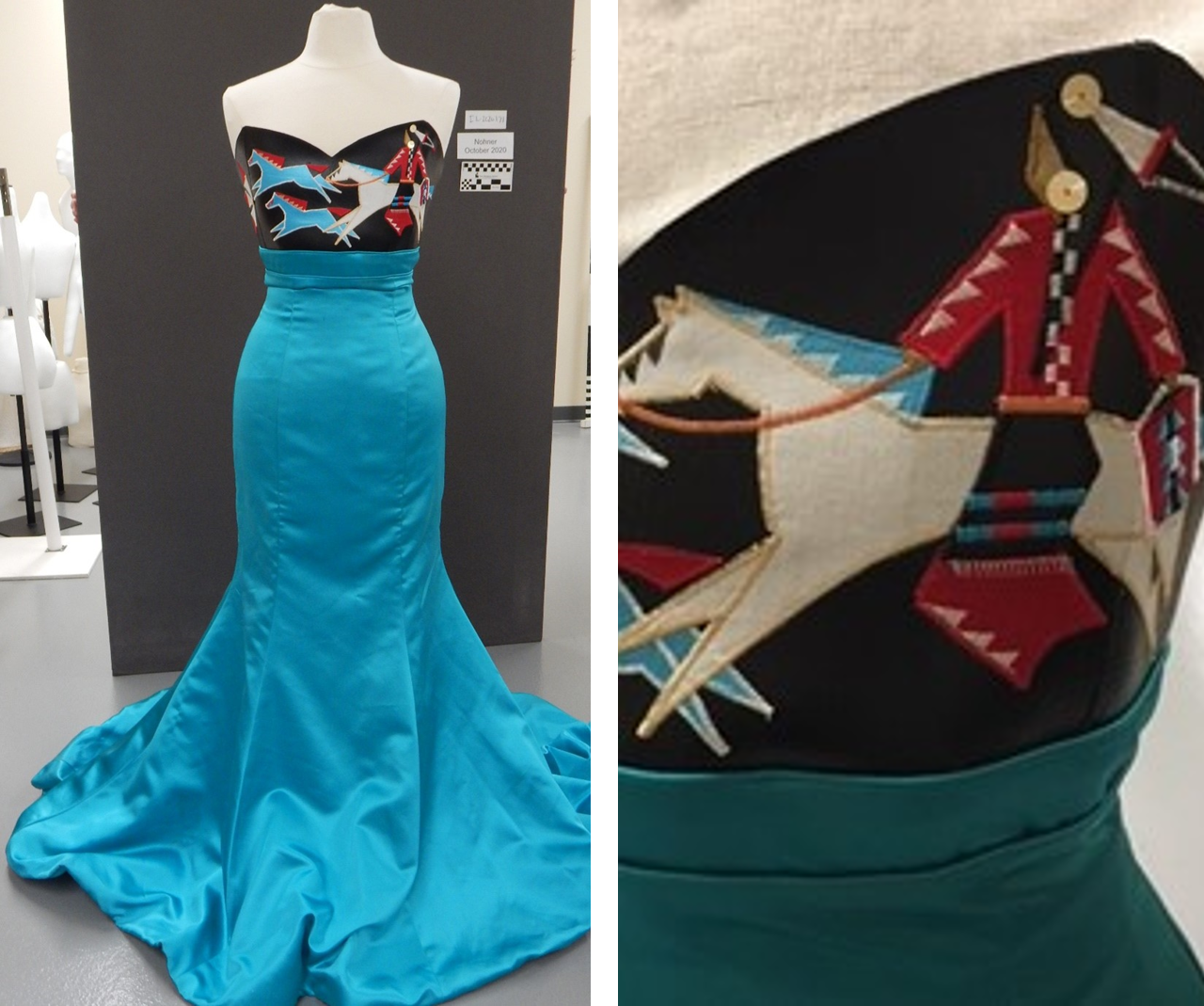 While much of the upcoming exhibition Fashion & Function: North Dakota Style draws upon collections held by the State Historical Society of North Dakota, we are also featuring some significant loaned materials. In addition to the three garments belonging to former Miss America Cara Mund, we are including garments loaned by First Lady Betsy Dalrymple, hockey star Jocelyne Lamoureux, actor Josh Duhamel, and the estate of singer Peggy Lee.
One loan—a teal satin evening gown—will no doubt be a showstopper in the exhibition. It arrived on October 20th, care of its designer Norma Baker-Flying Horse. The gown was worn by journalist Corinne Oestreich at the 2019 Grammy Awards. It is a stunning hybrid of contemporary style and traditional technique accented with a voluminous mermaid hemline.
Norma Baker-Flying Horse is a member of the Hidatsa, Dakota Sioux, and Assiniboine nations. She originally honed her skills designing for and performing in regional powwows. Her regalia designs led her to experiment with high fashion based upon traditional motifs, created under the label Red Berry Woman.
She points to her brother and sister as the artists in the family, yet she equally found her medium through fabric and thread. The Grammy gown features appliqué work inspired by ledger art illustrations of running horses. One horse carries a lone rider, Red Berry Woman, acting as both its creator's avatar and her signature.
The gown will be featured in the Indigenous Ingenuity section of Fashion & Function: North Dakota Style, opening in early 2021.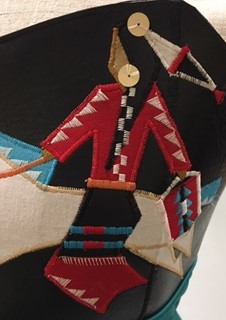 Next article:
Two Sisters Help Us Properly Dress Our Nun

Previous articles:
Spooktacular Fashion: Four Vintage Halloween Masks
Wouldn't It Be Wunnerful, Wunnerful
An Army of Aluminum Mannequins Takes Shape
Miss America's Gown & Wonder Woman Boots Have Arrived!
Fashion & Function: North Dakota Style
We're currently seeking clothing, games, and other items from the 1960s to today that have North Dakota stories. If you have items to consider donating to the state's museum collections, you'll find an online donation form.