News and Events
The Nitty-gritty of Nostalgia
Posted 1/07/21 (Thu)
Historical Images Showcase Fashion Exhibit's Themes
By David L. Newell, Exhibitions Manager
In recent months, we've featured several blog posts discussing the preparation of the 140 dress forms and mannequins, as well as some of the garments, which comprise Fashion & Function: North Dakota Style. Yet these make up only half of the gallery installation. The exhibition also includes a significant number of historical images drawn from the State Archives and contributed from other sources.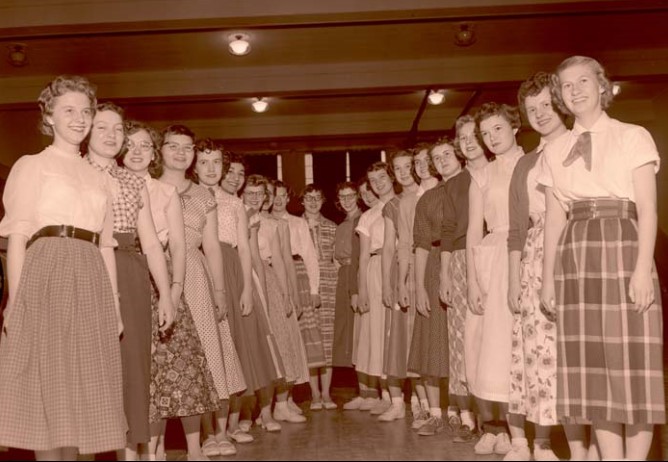 Williston High School students wearing calf-length skirts and bobby socks form the sign for victory in 1953.
SHSND SA 10958-00002
When I first received the assignment to organize Fashion & Function I had just arrived in the state. And while well-versed in the history of the American West, I wasn't fully aware of North Dakota's specific contributions. My crash course on the subject involved reading Elwyn B. Robinson's History of North Dakota and pouring over online photographic images available through the State Archives.
As a clothing historian who has previously worked with historical clothing collections in Texas and Colorado and trained as a theatrical costume designer, I was enthralled with the images available through the photographic archives. And while many of these had no doubt been referenced over the years for their insight into specific moments in the region's history, I was looking at them exclusively for the clothing they documented.
It was from these photos that the exhibition's thematic sections emerged. They also strongly reinforced the state's sartorial fusion of practicality and environmental influences, a combination integrated into the exhibition's title. This wasn't going to be an installation about Parisian haute couture or the latest designer runway collections, but one rooted in everyday common sense, creativity, adaptation, and regional traditions, albeit set against the backdrop of broader fashion trends.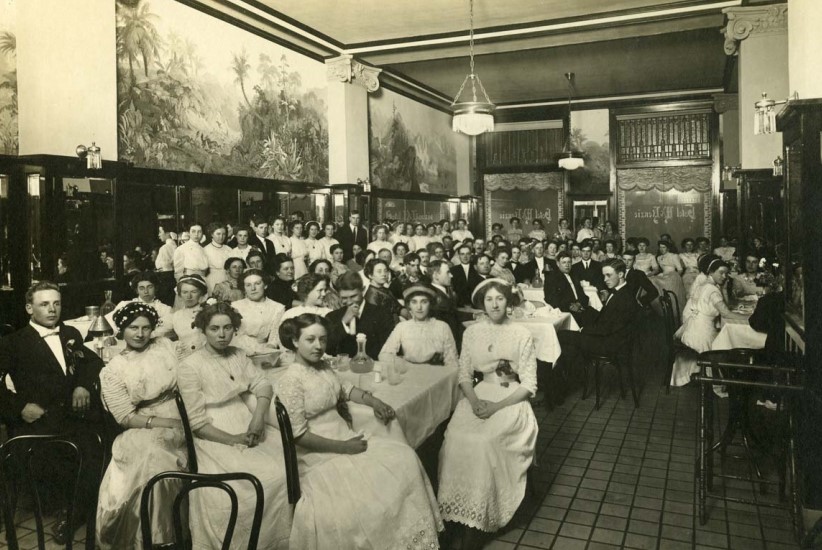 At this 1911 McKenzie Hotel dinner reception in Bismarck, women wear a variety of white cotton and linen dresses known as lingerie dresses due to these gowns' fine tucked details, broderie anglaise, and lace insertions. We also have several examples of the dining room's black bentwood chairs in the State Historical Society's permanent collection.
SHSND SA 10989-0004
Three weeks into the project, we held a meeting of the Audience Engagement & Museum team to review a PowerPoint slideshow outlining the key images and primary themes that had emerged in my initial round of research. My colleagues then helped to define and refine specific areas of focus in addition to identifying thematic directions I hadn't considered. Their editorial input also helped distill more than 30 thematic sections down to a more manageable count.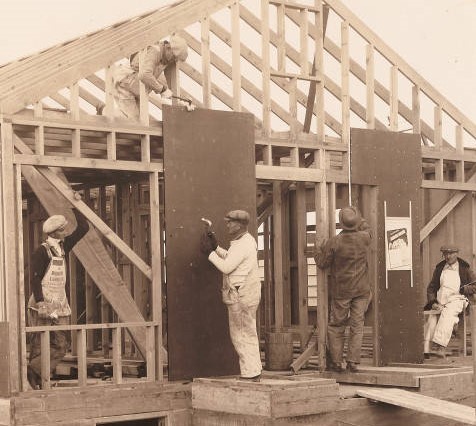 Einar Tulberg and his crew, sporting coveralls and work clothes,
frame a house in Bismarck in 1936. SHSND SA 2013-P-042-13
The staff in the State Archives has also contributed immeasurably, organizing and scanning the 240-plus photographs identified as potential visual support for the exhibition. They've also recommended some amazing archival film footage to help contextualize several of the thematic sections. After all, it is one thing to see historical clothing in still images, but something entirely different to see these garments in motion. In addition to a 1972 Minot fashion show and segments of the 1952 Sanish Rodeo, the exhibit will include film clips of a 1932 powwow held in windswept Nishu, family home movies from Williston in the 1950s and early 1960s, and footage of members of the Civilian Conservation Corps futilely building earthen dikes to hold back the flooding Missouri River in 1935.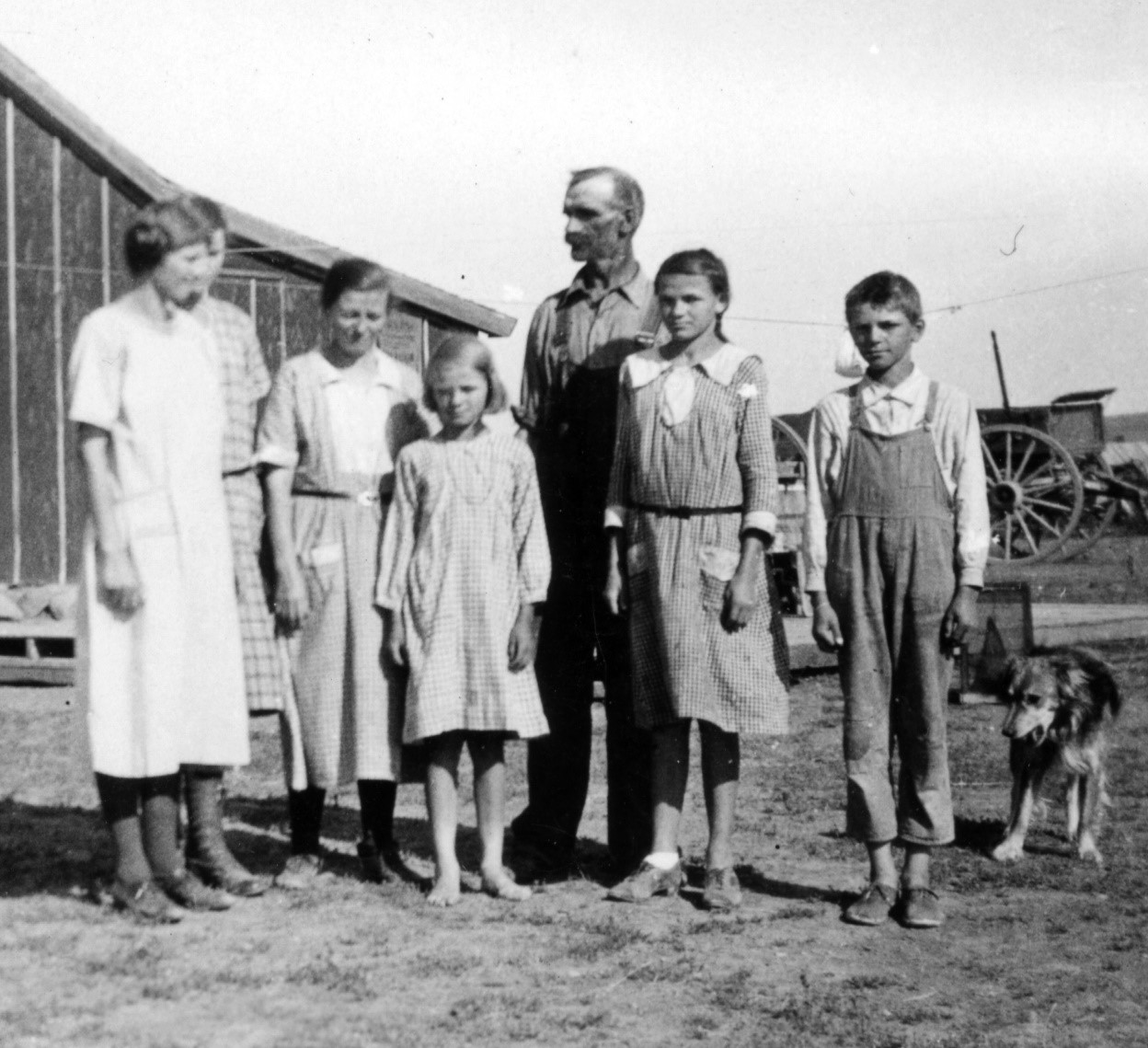 In this 1925 photo taken at their farm home near Alexander, the family of John Link, center, pose in well-worn cotton daywear. The 11-year-old boy in denim overalls is Arthur Link. He will become the 27th governor of North Dakota. The wooden platform behind the family is a temporary dance floor built for daughter Elizabeth Link's wedding.
SHSND SA 10943-56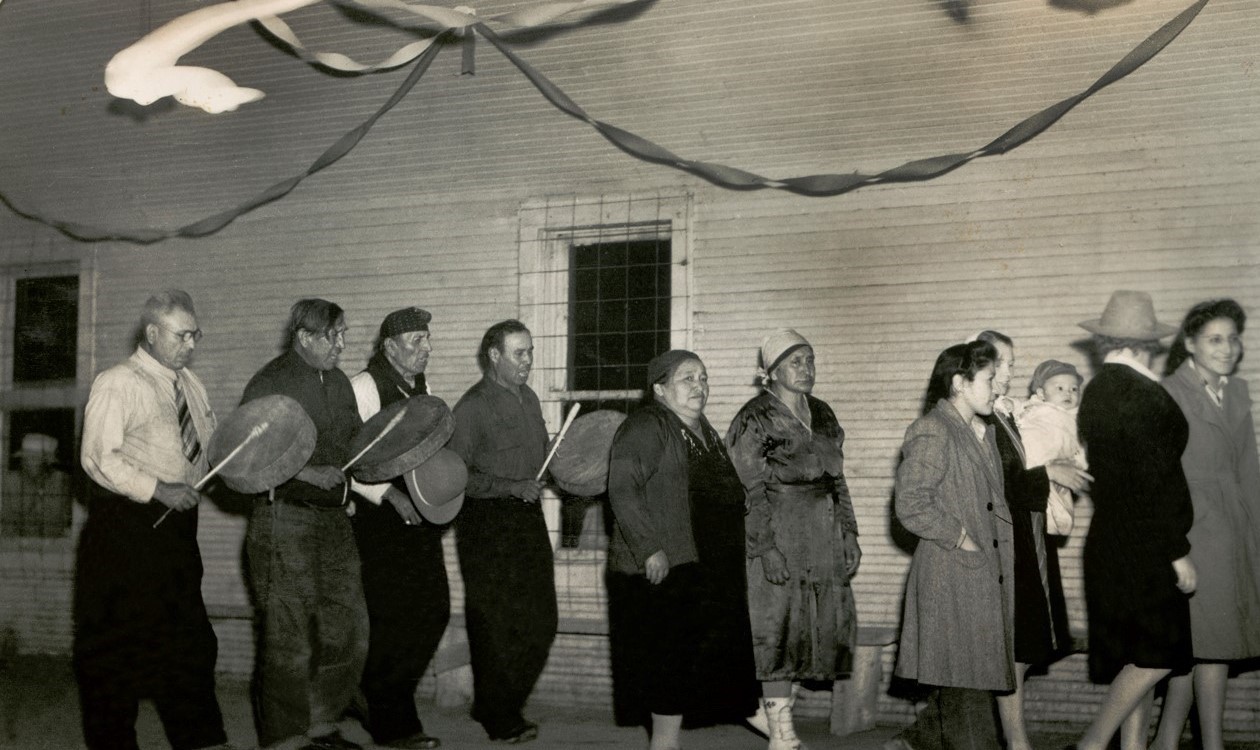 Procession at a 1942 powwow for a returning World War II Marine at Elbowoods. The young women on the right wear fashionable streetwear. Note their wool coats with padded shoulders and pompadoured hairstyles. Ten years later, Elbowoods was flooded to form Lake Sakakawea. SHSND SA 00039-00070
Fashion & Function: North Dakota Style is intended as a love letter to the state with the photographs in the role of community scrapbook. The exhibition celebrates the grit and struggles of the region, while also showcasing its sense of self and confidence, as well as its sometimes-surprising explosions of international style and flair. The exhibition is scheduled to open in early 2021.
If you have items or clothing to be considered as donations to the State Historical Society, go to online donation form, or for more information, contact Melissa at methompson@nd.gov or Elise at edukart@nd.gov.
Next article:
A 1930s Timeless Black Dress Still Stuns Today
Previous articles:
The Nitty-gritty of Nostalgia
Dressing the Mannequin
Once a Bennie, Always a Bennie
Upcoming Fashion & Function Exhibit Highlights Objects from the Jewish Faith
Hats and Hunting: Fashion and Feathers in Our Museum Collection
Western Symbols Tell Stories of Cattle Culture
Red Berry Woman, Red Berry Style
Spooktacular Fashion: Four Vintage Halloween Masks
Wouldn't It Be Wunnerful, Wunnerful
An Army of Aluminum Mannequins Takes Shape
Miss America's Gown & Wonder Woman Boots Have Arrived!
Fashion & Function: North Dakota Style