Western Symbols Tell Stories of Cattle Culture
Posted 11/19/20 (Thu)
By David L. Newell, Exhibitions Manager
Our upcoming exhibition Fashion & Function: North Dakota Style shoehorns 19 thematic sections into the 5,000-square-foot Governors Gallery. That is a lot of information and even more stories.
One such story involves a buckskin suit included in the Cattle Culture section of the exhibition. The suit—consisting of a matching fringed jacket and pants—belonged to Franz Hanneburg, who worked on a ranch near Hebron. As is often the case with historic garments, we don't know how he came to own the suit in the 1890s. We also don't know the maker's name, but it was probably a woman affiliated with the Sioux/Nakota/Yanktonai.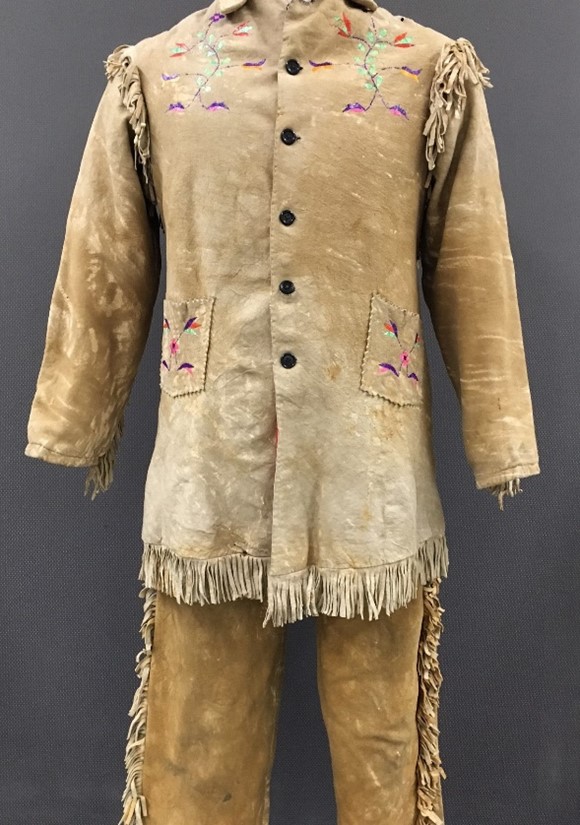 The suit represents a significant element in western history—the military scout. Beginning in the 1860s, military scouts adopted this hybrid combination of European-cut garments fabricated and embellished with regional materials—in this case tanned buckskin and porcupine quills. It was a style first romanticized in the "Leatherstocking Tales" of James Fennimore Cooper and writings of Washington Irving, then later adopted by several scouts when they became theatrical performers and led the Wild West shows popular in the late 19th and early 20th centuries. It is the flamboyant style favored by notables such as Buffalo Bill Cody, Wild Bill Hickok, and Pawnee Bill.
This flashy suit style wasn't limited to showmen; we are also showcasing studio photographs of the Marquis de Mores and photographer Frank Fiske in similar, scout-inspired outfits in the exhibition. The Hanneburg suit is cut using a European-style lounge coat pattern, with set-in sleeves and a distinctive diamond-shaped back panel, accented with patch pockets. The pockets are die-cut buckskin—possibly using a u-shaped chisel—providing a distinctive reverse-flute edge.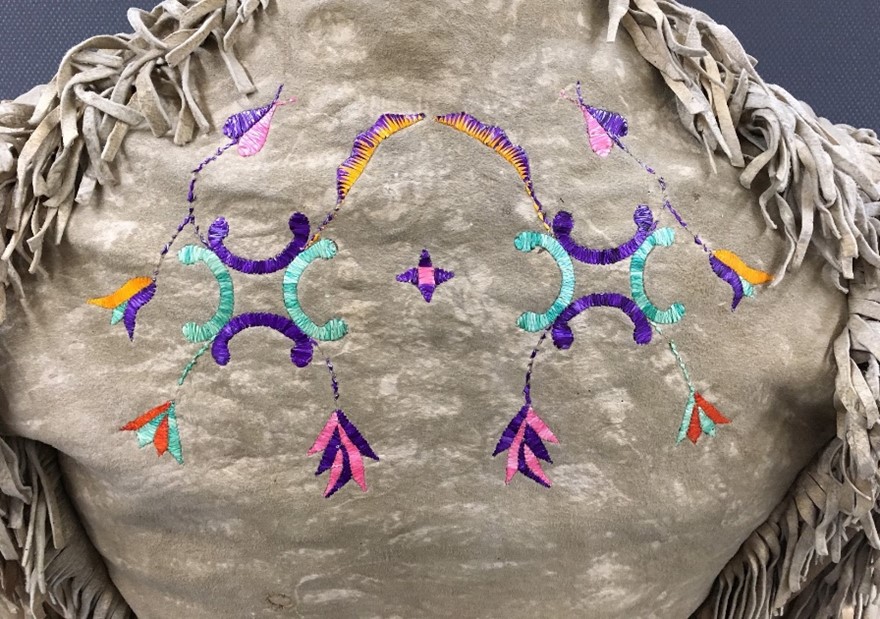 This windproof buckskin coat is fully lined with red wool trade-blanket fabric and would have been an effective buffer against the region's brisk climate. The fringed coat is also embellished with a delicate pattern of stems and leaves worked in multicolored dyed porcupine quills. Interestingly, there was a change in the decoration scheme, as in several locations on the coat there are graphite hand-drawn guidelines for flowers that were never realized.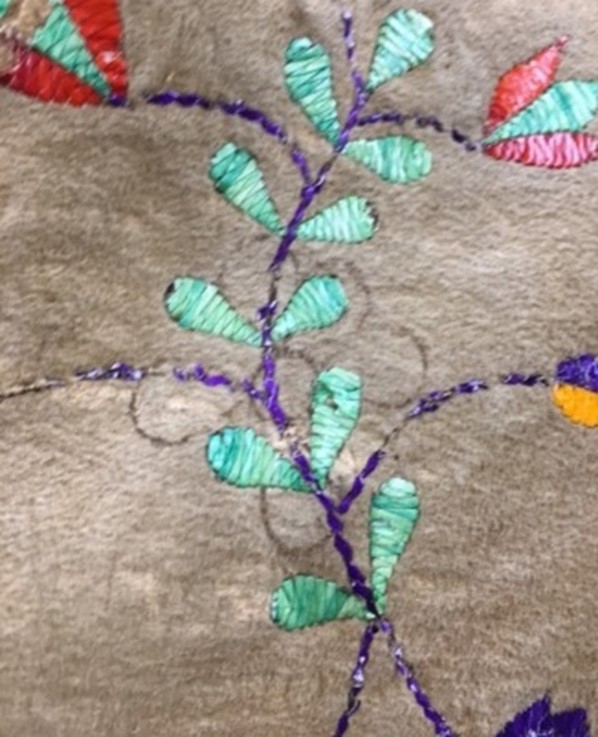 Fashion & Function: North Dakota Style opens in early 2021.
Next article:
Hats and Hunting: Fashion and Feathers in Our Museum Collection
Previous articles:
Sisters Help Us Properly Dress Our Nun
Red Berry Woman, Red Berry Style
Spooktacular Fashion: Four Vintage Halloween Masks
Wouldn't It Be Wunnerful, Wunnerful
An Army of Aluminum Mannequins Takes Shape
Miss America's Gown & Wonder Woman Boots Have Arrived!
Fashion & Function: North Dakota Style
We're currently seeking clothing, games, and other items from the 1960s to today that have North Dakota stories. If you have items to consider donating to the state's museum collections, you'll find an online donation form.