An Army of Aluminum Foil Mannequins Takes Shape
Posted 10/14/20 (Wed)
By Lori Nohner, Assistant Curator of Collections, Audience Engagement & Museum Division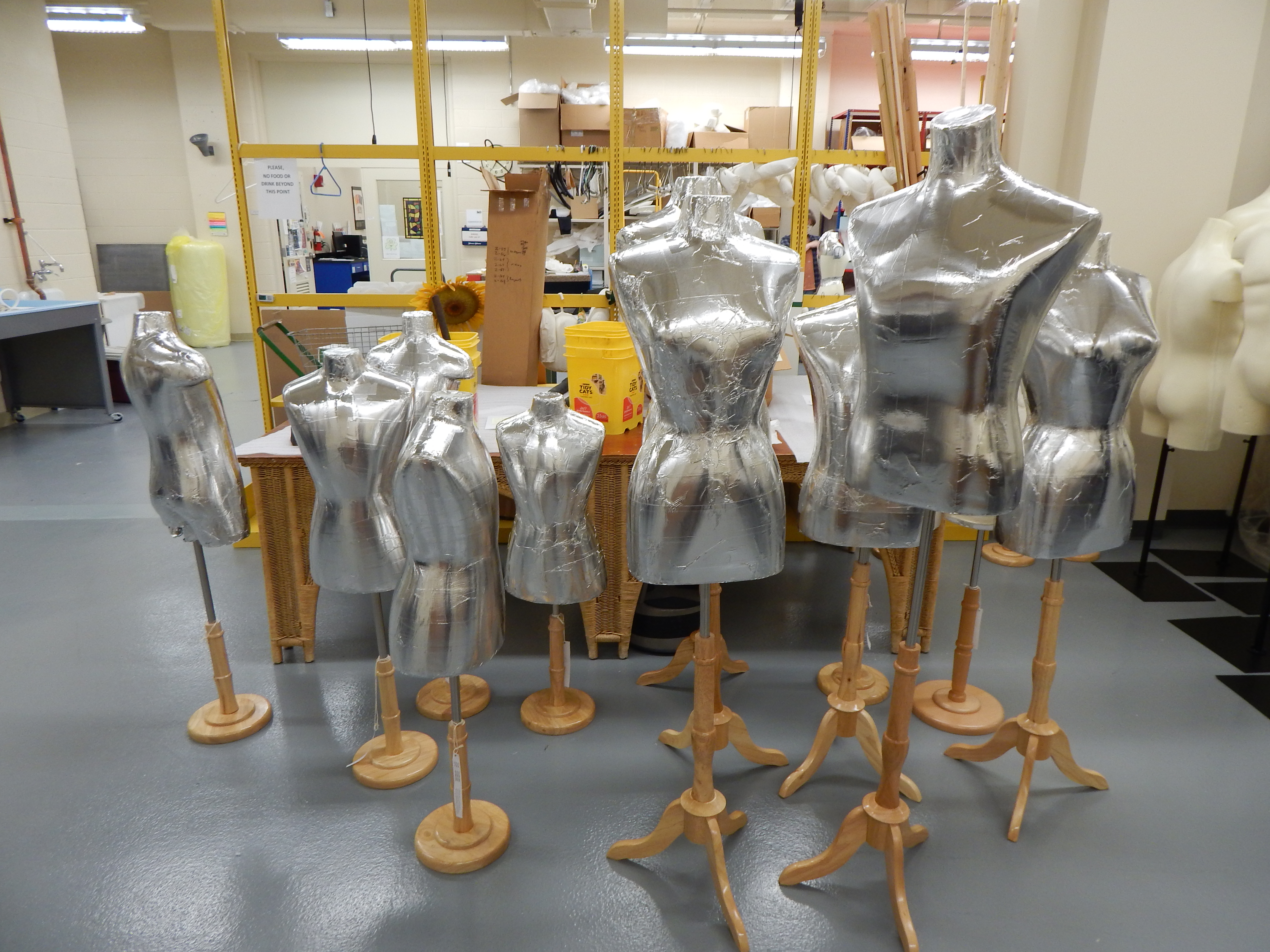 The collections workroom is looking a little crazy lately as we are getting ready for the Fashion & Function: North Dakota Style exhibit opening in January. With so many cool outfits to showcase, our Audience Engagement & Museum Division team needed more than 125 body forms or mannequins. We had some on hand but needed to order around 70 more.
Two Mannequin Challenges
The first challenge we hit was mannequins are expensive. Those made from archival-safe materials that won't harm artifacts cost between $800 to $1,000 each. That amount was beyond our budget, so brainstorming sessions started on how to use lower-cost retail mannequins in a way that would be safe for the garments.
The second challenge was that retail mannequins tend to off-gas. What's off-gassing? You know that plasticky smell you get when you open a new Rubbermaid tub? That's off-gassing, and it can yellow and deteriorate fabrics over time. Bryan Turnbow, our chief preparator, tested a few options to seal in the offending vapors. Staff came to an agreement on cold-weather aluminum foil tape. Yes, the kind you use for ductwork. Aluminum foil is an inert vapor barrier, and the acrylic adhesive passed the curator's test. Since we creatively came up with a solution, we ordered retail mannequins for a significant cost savings and purchased rolls of foil tape at a local hardware store.
So the wrapping parties began. In three weeks, 23 volunteers and staff members wrapped over 70 mannequins and dress forms, creating a regular aluminum foil army. Did you know it takes about an hour to fully wrap a mannequin with foil tape? This is a step that visitors to the Fashion & Function exhibit will never see, but it was necessary for the long-term preservation of the state's collection.
The mannequins lined up before the foiling party: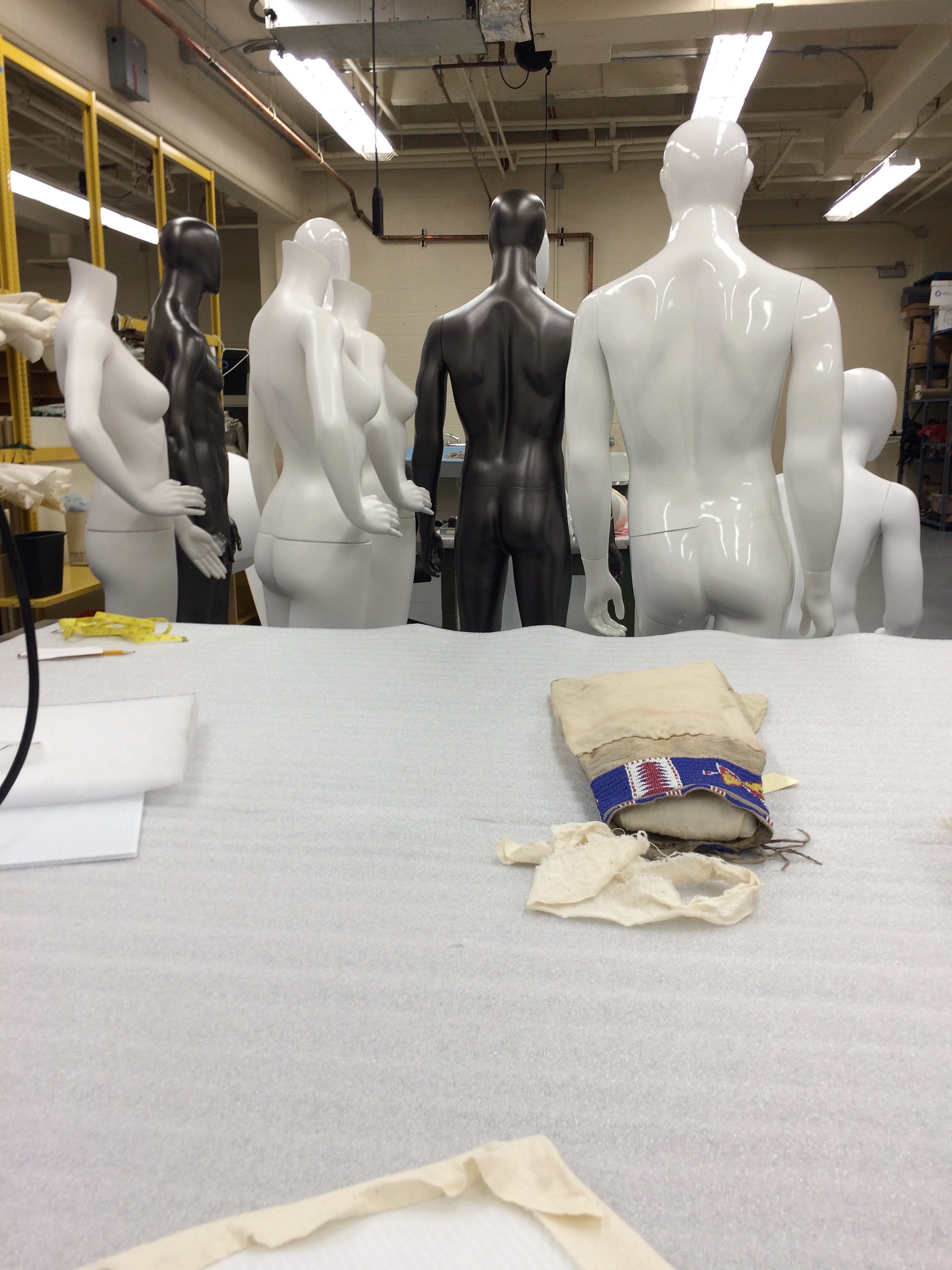 About 30 minutes into foiling one mannequin.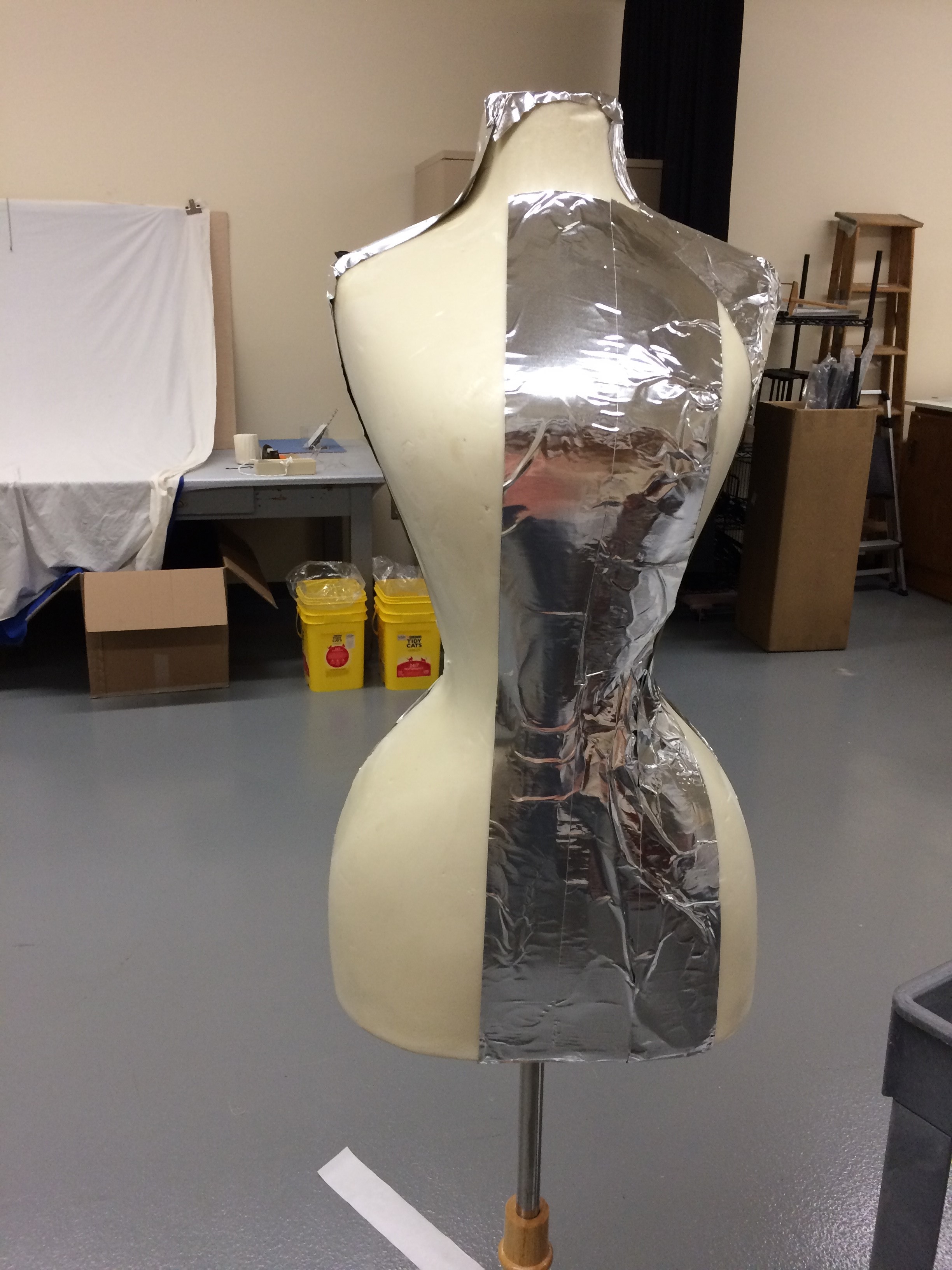 Foiling and foiling and foiling more than 100 mannequins: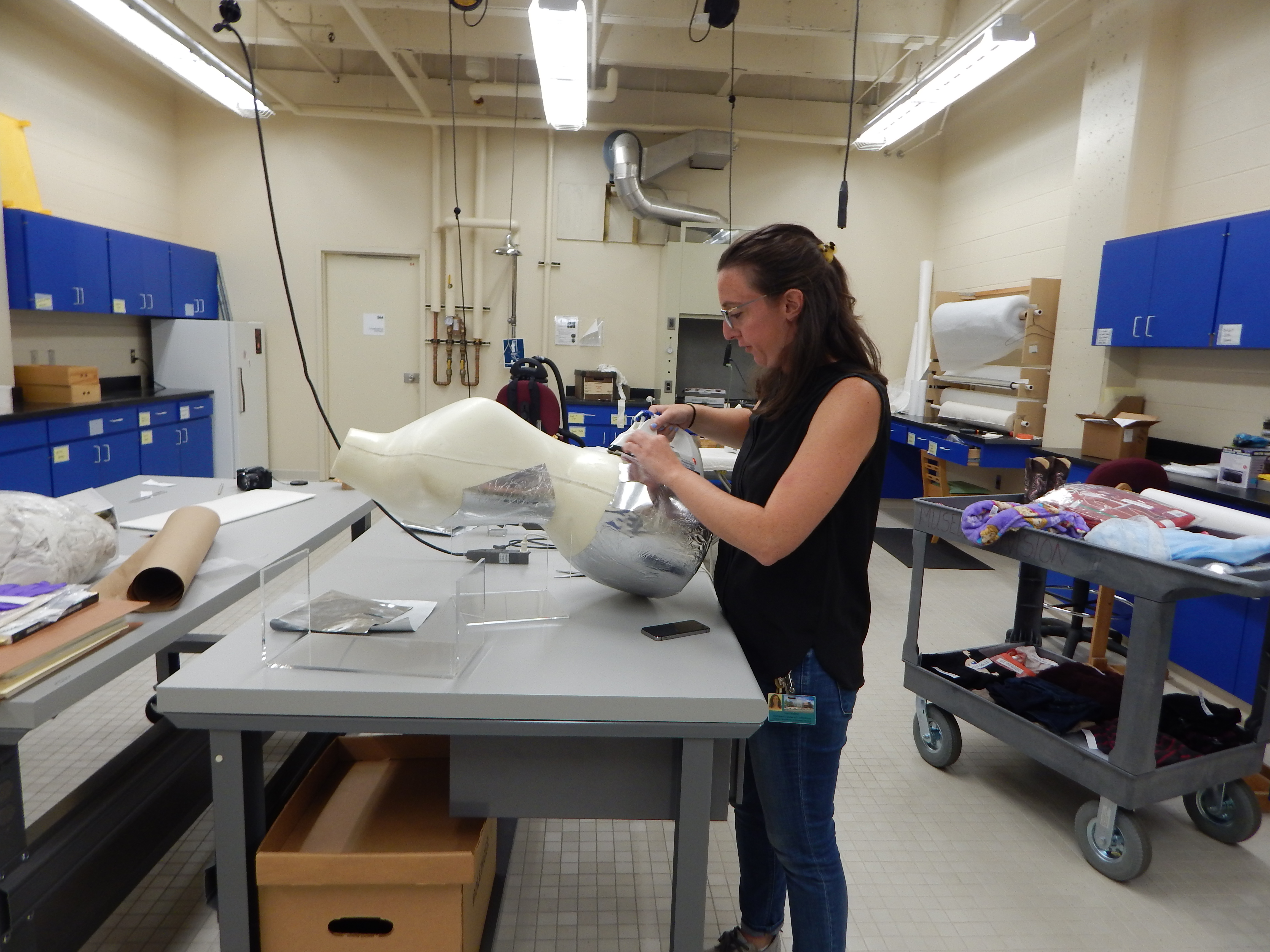 My new friend, "Silvia." Other friends include
Tina Foil and Al Luminum.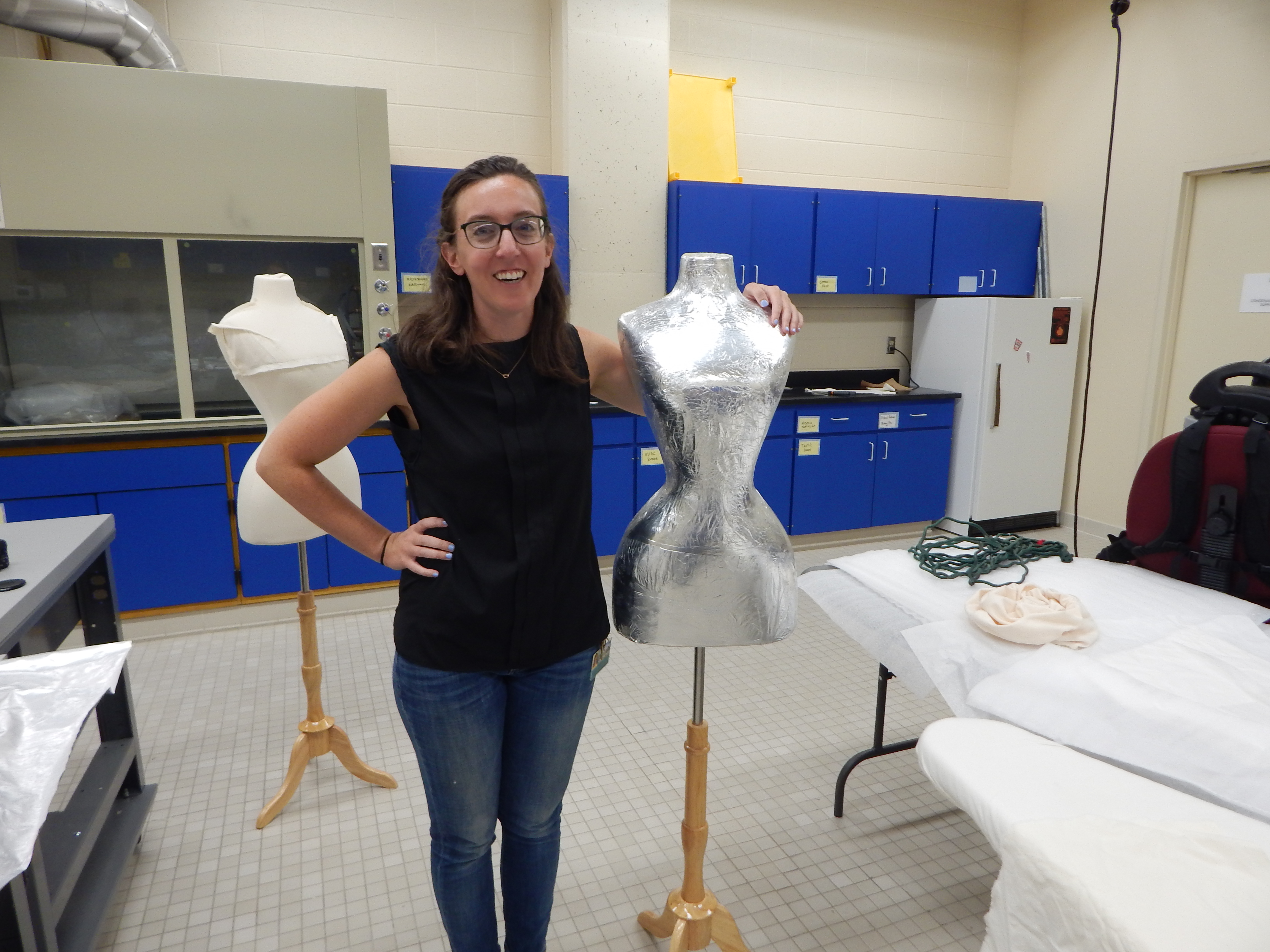 Next Article:
Wouldn't It Be Wunnerful, Wunnerful?
Previous Articles:
Miss America's Gown & Wonder Woman Boots Have Arrived!
Fashion & Function: North Dakota Style
We're currently seeking clothing, games, and other items from the 1960s to today that have North Dakota stories. If you have items to consider donating to the state's museum collections, you'll find an online donation form.