Once a Bennie, Always a Bennie
Posted 12/21/20 (Mon)
By Lori Nohner, Assistant Curator of Collections
Every now and then, I run across an artifact in our collection and feel an eerie personal connection. Catherine Tschida Patterson's graduation dress is one of them. When we pulled this dress to use in the upcoming Fashion and Function: North Dakota Style exhibit, it looked like a typical dress of its time period. Called a lingerie dress, the white cotton gowns with intricate lace decorations were popular spring and summer wear from 1910-1920. But as I dug deeper into Catherine's story, it felt oddly like mine.
In 1912, Catherine wore this dress to her graduation from St. Benedict's Academy in St. Joseph, Minnesota. As soon as I read St. Ben's, my eyes lit up because I graduated from St. Ben's in 2011, 99 years later. The same Benedictine sisters who founded today's University of Mary and CHI St. Alexius here in Bismarck founded St. Benedict's Academy in 1880. It became the College of St. Benedict in 1913. Not many western North Dakota students attended this small Catholic women's liberal arts college, so I was excited to learn more about one who graduated nearly a century before I did.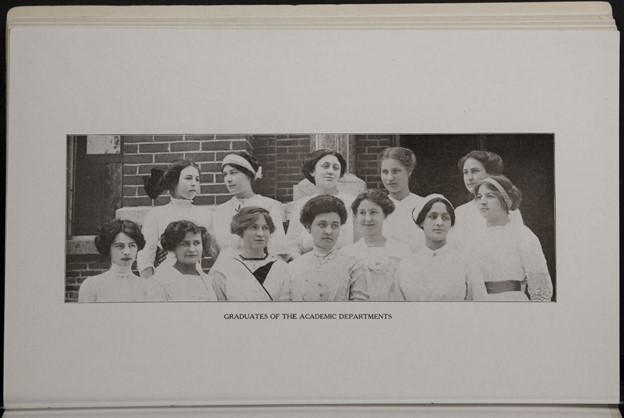 Catherine Tschida in 1912, front row, 2nd from the left. St. Benedict College and Academy, Sisters of the Order of Saint Benedict. 1912. "Thirtieth Annual Year-Book, 1912, St. Benedict's College and Academy, St. Joseph, Minnesota." Saint Benedict's Monastery, Accessed December 16, 2020. https://www.reflections.mndigital.org/catalog/stbm:1950

Catherine was born in Sims but grew up in Mandan. Guess who also grew up in Mandan? Me! After she graduated from St. Ben's, Catherine taught for a year in Solen before getting married. This is where I got goosebumps. The reason my family is in North Dakota is because my dad took a teaching job in Solen after he graduated from college.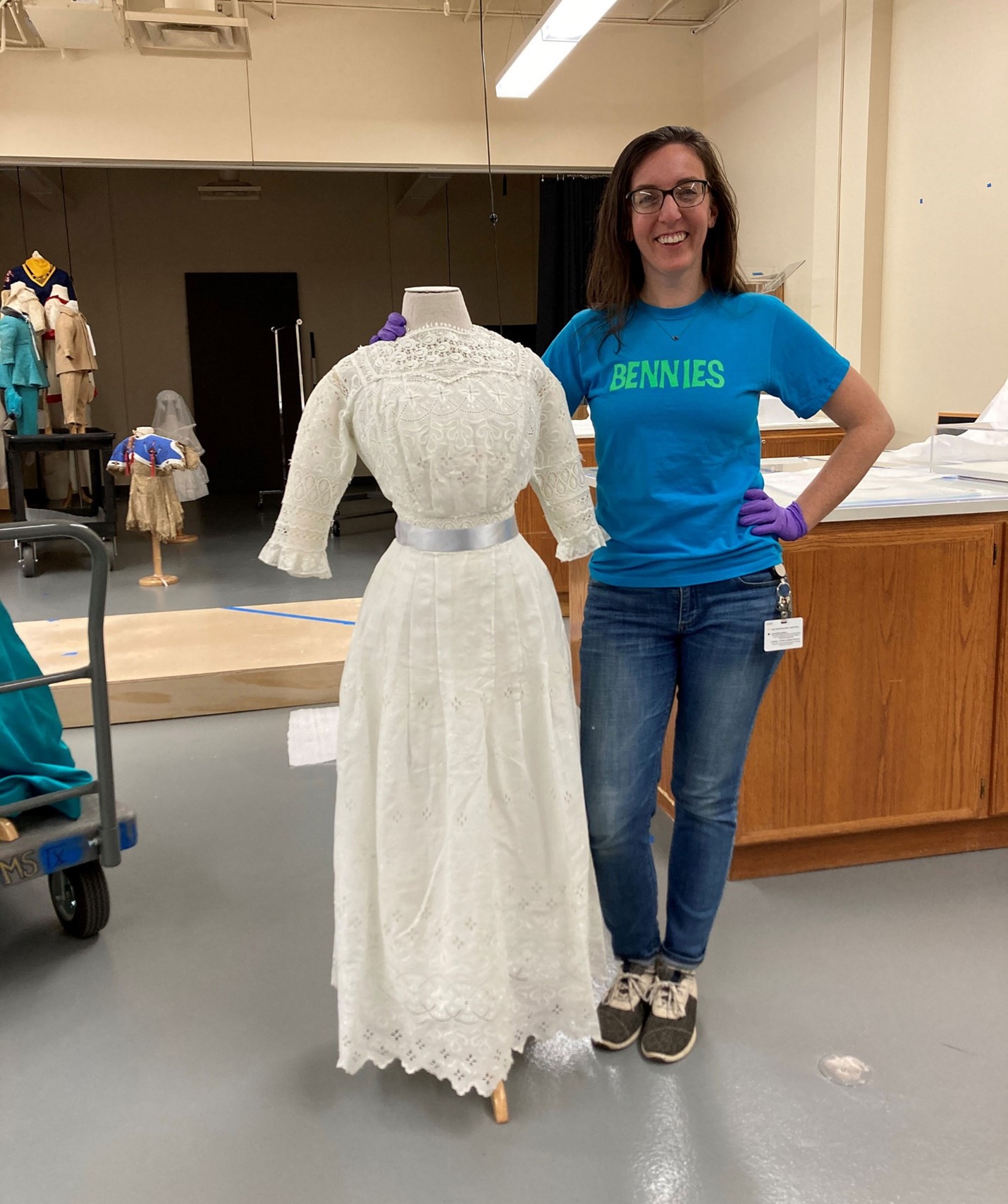 Two Bennies hanging out and getting ready for an exhibit.
I firmly believe that making these personal connections is what makes museums so special. If someone can see a physical object and say, "I played with something like that!" or "She grew up in the same place as me!" or "I remember my grandma wearing that!", those are the connections that make history come alive. I sincerely hope this exhibit will jog visitors' memories and create personal connections to North Dakota's history.
If you have items or clothing to be considered as donations to the State Historical Society, go to online donation form, or for more information, contact Melissa at methompson@nd.gov or Elise at edukart@nd.gov.
Next article:
Previous articles:
Upcoming Fashion & Function Exhibit Highlights Objects from the Jewish Faith
Hats and Hunting: Fashion and Feathers in Our Museum Collection
Western Symbols Tell Stories of Cattle Culture
Red Berry Woman, Red Berry Style
Spooktacular Fashion: Four Vintage Halloween Masks
Wouldn't It Be Wunnerful, Wunnerful
An Army of Aluminum Mannequins Takes Shape
Miss America's Gown & Wonder Woman Boots Have Arrived!
Fashion & Function: North Dakota Style