News and Events
Wouldn't It Be Wunnerful, Wunnerful?
Posted 10/19/20 (Mon)
By David L. Newell, Exhibitions Manager, Audience Engagement & Museum Division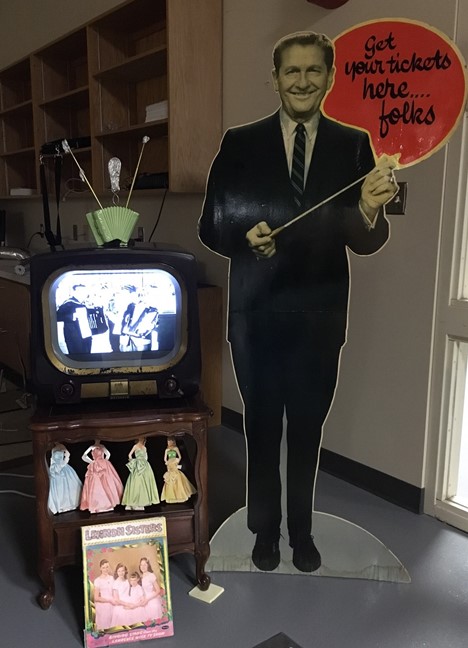 As preparations for Fashion & Function: North Dakota Style continue toward the January 2021 opening, I want to share with the Foundation followers a behind-the-scenes peek at a portion of the exhibit not exclusively focused on fashion, but of a fashion, none the less. Two weeks ago, Kim Jondahl provided a splash of glamor and pop culture references involving both Miss America and Wonder Woman. This week, we move pop culture closer to home with Strasburg, North Dakota's native son Lawrence Welk.
As we have been dressing mannequins and preparing garments for display, Assistant Collections Curator Lori Nohner has been staging small-themed vignettes in the window of the work room along the basement level's central staff corridor. Her display relating to Wunnerful, Wunnerful and Lawrence Welk brought a flurry of comments and thumbs up from passersby.
Central to the Wunnerful, Wunnerful section's vignette is a 1951 Motorola television with its original rabbit ear antenna. For those of us of a certain age, the television and the foil-wrapped antenna bring back a flood of memories. In fact, when we accepted the television as an exhibition prop in November 2019, the donor, Dudley Gartner, told us that the television had held pride of place in his grandparents' living room in New England, North Dakota. At Sunday family dinners, he remembered the kids being settled in front of the television—watching the test pattern until programming began—while the adults sat in the dining room speaking high German, as the senior Gartners did not speak English.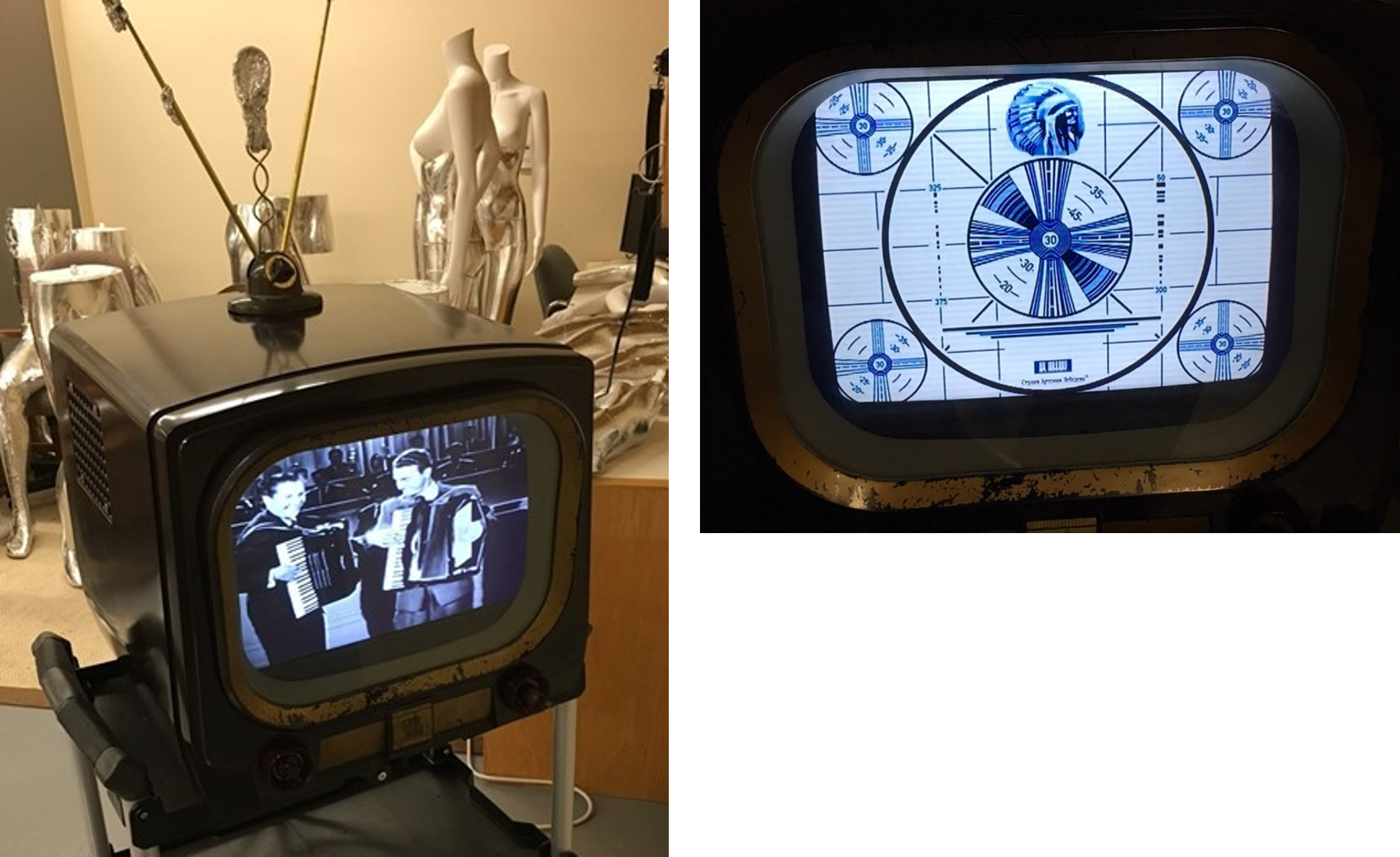 We are using the same television—with a new video monitor replacing the original tube—to show archival film footage of Lawrence Welk during visits home to North Dakota. In addition to a three-piece wool suit worn by Welk during the 1970s, we are also using an almost life-size promotional sign of Welk along with an accordion-shaped vase purchased as a souvenir at the Aragon Ballroom in Venice Beach, California, from which the weekly musical extravaganza was broadcast.
The vignette also includes a set of Lennon Sister paper dolls printed by the Whitman Publishing Company in 1957. The quartet appeared as members of the Welk television family from 1955 to 1968. The figures of Peggy, Dianne, Janet, and Kathy wear billowing ballgowns and share the space with their own folding backdrop that doubles as a storage folder for their tab-edged wardrobes.
So, if you remember Saturday night baths and then being bundled in your pajamas and robe in front of the TV to watch The Lawrence Welk Show on a huge 17-inch screen, you will have your heartstrings strummed in Fashion & Function.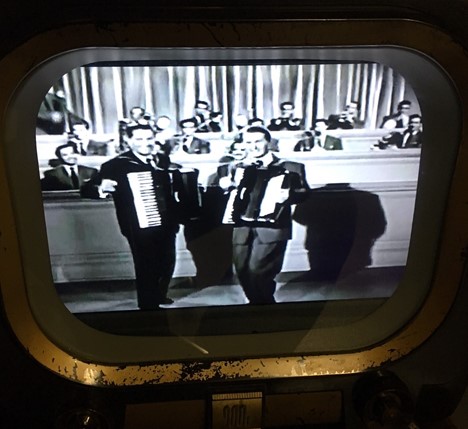 These two need no introduction to their fans. Lawrence Welk and Myron Floren delighted audiences with their accordion duets.
Fashion & Function: North Dakota Style opens in early 2021.
Previous Articles:
An Army of Aluminum Mannequins Takes Shape
Miss America's Gown & Wonder Woman Boots Have Arrived!
Fashion & Function: North Dakota Style
Next Article:
Spook-tacular Fashion: Four Vintage Halloween Masks
We're currently seeking clothing, games, and other items from the 1960s to today that have North Dakota stories. If you have items to consider donating to the state's museum collections, you'll find an online donation form.