News and Events
Tesoro Funds Passport to North Dakota History for Third Summer Season
Posted 6/19/10 (Sat)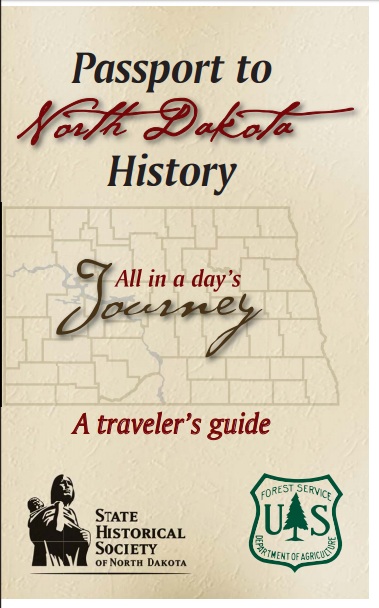 A third edition of the award-winning Passport to North Dakota History, a traveler's guide to historic sites, has been republished for this summer's tourist season with a $25,000 donation from Tesoro.

It was unveiled June 8 in a ceremony at the North Dakota Heritage Center in Bismarck that was attended by Lieutenant Governor Jack Dalrymple and project sponsors. "The Passport to North Dakota History guide is a great way to showcase North Dakota's rich heritage and historic attractions for residents and visitors alike, as well as to chronicle the state's legendary journey into the past," Dalrymple said.
View photos from the event

The theme for this year's passport is the Power of the Past – the Journey Begins Here. This edition features locations of more than 20 energy facilities across the state, that details guided tours and facility facts and figures featured on a new fold-out map, and the significance of the energy sector to current and past history.

Two new partners, North Dakota Department of Transportation and Basin Electric Power Cooperative, donated services to develop this fold-out map, which also shows locations of all historic attractions featured in the guide, as well as more than 40 communities with Tesoro locations. On the flip side of the map is the North Dakota Energy Trail featuring more than 20 stations, mines, wind farms and other energy sites, many offering tours, with interesting facts and histories of those facilities.

Complementing the Passport again this year is the State Historical Society of North Dakota's History on Call program, which offers sound bites to travelers about the historic sites included in the Passport. The statewide History on Call number – 701- 557-9190 – can be accessed by cell or regular telephone. A partnership with the USDA US Forest Service has provided a $15,000 donation for the program.

The History on Call feature of the Passport has been enhanced this season with additional marketing. State Historical Society of North Dakota staff have designed 20 regional banners that will highlight the History on Call number as well as the major tourism attractions in specific regions. The banners will be placed at state historic sites and regional convention and visitor bureaus all around North Dakota. Two pocket-sized cards have also been developed to share the History on Call number and the directory for sites featured in the program. These are being handed out at historic and partner sites.

The new edition of the Passport features thumbnail sketches and photos of more than 60 historic sites, state parks, scenic byways and wildlife refuges. It also lists state campgrounds and scenic byways.

By the end of June, nearly 90 Tesoro retail stations in North Dakota and the region will begin to distribute the Passports, and they will also be available at state and national historic sites, Dakota Prairie Grasslands offices, North Dakota parks and recreation areas, a number of grocery stores, and at the North Dakota Heritage Center Museum Store.

"We are part of North Dakota. Our operations are here, our employees are here, and what we can do to support the area is a win-win for everyone," said Leif Peterson, human resources manager at the Tesoro refinery in Mandan.

"North Dakota has a rich heritage to share with residents and visitors and the North Dakota Passport is the ideal way to make our history come alive. Tesoro is proud to be a supporter of this program," said Tesoro's Mandan Refinery Manager John Berger.

Tesoro, headquartered in San Antonio, Texas, supported the project by working side-by-side with project partners to design, plan and promote the joint venture throughout North Dakota.

Daryl Hill, spokesman for Basin Electric Power Cooperative, said energy has been an integral part of North Dakota's history since the late 1800s. "At one time, there were 306 coal mines in the state. Many of those were small production mines by today's standards and that development was the basis for what we have today," he says. "Since that time, energy development has grown to be the number four economic input to the state's economy. It will be an integral part of the state's future as well."

"We are very proud to have partnered with the State Historical Society of North Dakota Foundation on the development of first The Passport to North Dakota History and now to expand it with History on Call," said Dave Pieper, USDA U.S. Forest Service, and Dakota Prairie Grasslands Supervisor.

According to Tom Turck, Dakota Prairie Grasslands Archaeologist, for the USDA U.S. Forest Service, the 2008 Passport to North Dakota History won the USDA U.S. Forest Service regional and national Windows on the Past Award for Excellence.

More than a dozen partners are participating in the production and distribution of the Passports and promoting History on Call. Dave Blair at Kadrmas, Lee and Jackson coordinated the book's design and it was printed by Image Printing of Bismarck. Staff at the State Historical Society of North Dakota and its Foundation, have been involved in program enhancements. Other promotion and distribution partners are North Dakota Department of Transportation, Basin Electric Power Cooperative and more than 20 energy partners, North Dakota Tourism, the Bismarck-Mandan Convention and Visitors Bureau, North Dakota Parks and Recreation Department and the North Dakota Geological Survey, Cass-Clay Creamery and regional grocery stores -- Dan's Supermarkets of Bismarck, Mandan and Dickinson, Leevers Foods of Devils Lake and regional stores, Hornbacher's Foods in Fargo-Moorhead, Miracle Marts in Minot, Economart in Williston and the North Dakota Grocers Association.

In addition to being available at Tesoro stations and other sites across the state by the end of the month, the Passport is available online to download and print.