SHSND Foundation News
Remembering A. Kirk Lanterman
Posted 11/02/20 (Mon)
by Roger Bailey, Consultant to the Foundation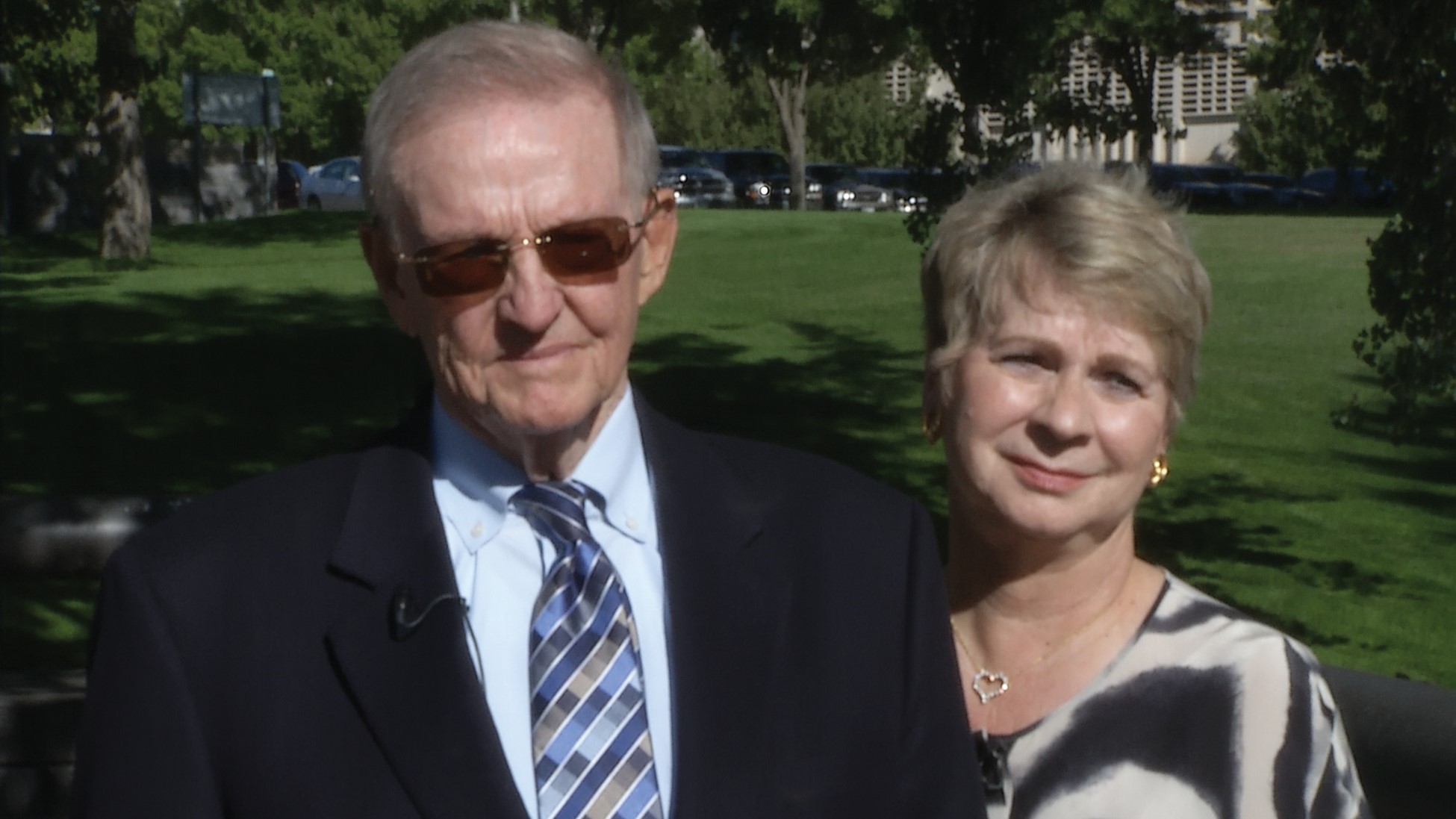 He traveled around the world. By his count, A. Kirk Lanterman worked in 85 countries. But a part of him never left home -- his North Dakota.
A. Kirk Lanterman, a man of genuine generosity provided a gift of $500,000 from him and his wife Janet, to the State Historical Society of North Dakota and its Foundation, died November 1, 2019, at his home in Seattle, Washington at the age of 87.
The Lanterman's gift supported the "Settlement Era Exhibit" in the Inspiration Gallery in the expanded North Dakota Heritage Center in Bismarck, ND.
Lanterman was born in Bismarck in 1931 and grew up in Mandan. After holding an assortment of part-time jobs from an early age, at 16 years old he joined the National Guard inspired by what he recalled as "partly by the pay of $2.12 a week." It was shortly after the war and it seemed like kind of a patriotic thing to do, he recalled. After graduating from Bismarck High School in 1950, he enrolled at the University of North Dakota in Grand Forks but left before the end of his first semester, joining the US Army and serving in the Korean War as a medic. Upon his discharge, Lanterman enrolled at the University of Washington and became a Certified Public Accountant (CPA) and then worked in the travel industry. Lanterman rose through the ranks, being named President of Westours in 1979 and President of Holland American Line in 1983. He became Chairman and Chief Executive Officer of Carnival Cruise Lines in 1997, a position from which he later retired. Before his retirement, the company was recording more than $2 Billion in annual sales with a fleet of 17 cruise ships, motor coaches, hotels and more than 18,000 employees.
A Kirk Lanterman saw the world, but he never forgot North Dakota. At the dedication of the A. Kirk Lanterman Investment Center at the College of Business and Public Administration at UND, funded by a half-million-dollar gift from the Lanterman's in 2003, the donor said, "I've spent a lot of time in the world, but you can always hearken back to what you learned in North Dakota. The morality, the work ethic, the common sense and the decency of the people -- it's something you never forget."
In a 2010 interview with Gerald Newborg of the State Historical Society, Lanterman reiterated his feelings for his home state. "My recollection of North Dakota is that it was a great place to grow up and I think the values associated with – and through the process – stayed with me for my whole life. I hope I was able to fulfill the expectation that you would have from a North Dakotan."
"Kirk truly believed the employees of Holland America were the reason for the company's success; he was just there to lead the way. During his 32 years at Holland America, he never laid off one employee and always said his main job was to make sure their jobs were secure" said Janet Lanterman upon her husband's death. "An avidly proud North Dakotan, he loved and lived the values of the state where he grew up," she said at the time of his passing.
Lanterman made donations in the name of his grandfather, Will Lanterman, who came to North Dakota in 1877 with his three brothers and sisters. "I'm not nearly as impressed with my life as I am with my grandfather's. I can't get over how hardy and dynamic those people were, yet charitable hearts," he said later.
Lanterman's gifts have helped not only the State Historical Society of North Dakota and its Foundation and UND, they have also been awarded to the Theodore Roosevelt Medora Foundation and the University of Mary.
"We can never thank him enough for his contributions to the Heritage Center and his other interests in North Dakota," said Marlo Sveen, Executive Director of the State Historical Society of North Dakota Foundation. "We will never forget and will always miss him."
Lanterman is survived by his wife Janet, four daughters and several grandchildren. Memorial services will be held in Palm Desert, California, and in Bismarck.