Wedding Dress Donation Highlights the North Dakota Romance of Art and Grace Link
Posted 1/05/22 (Wed)
By Kim Jondahl, Audience Engagement & Museum Director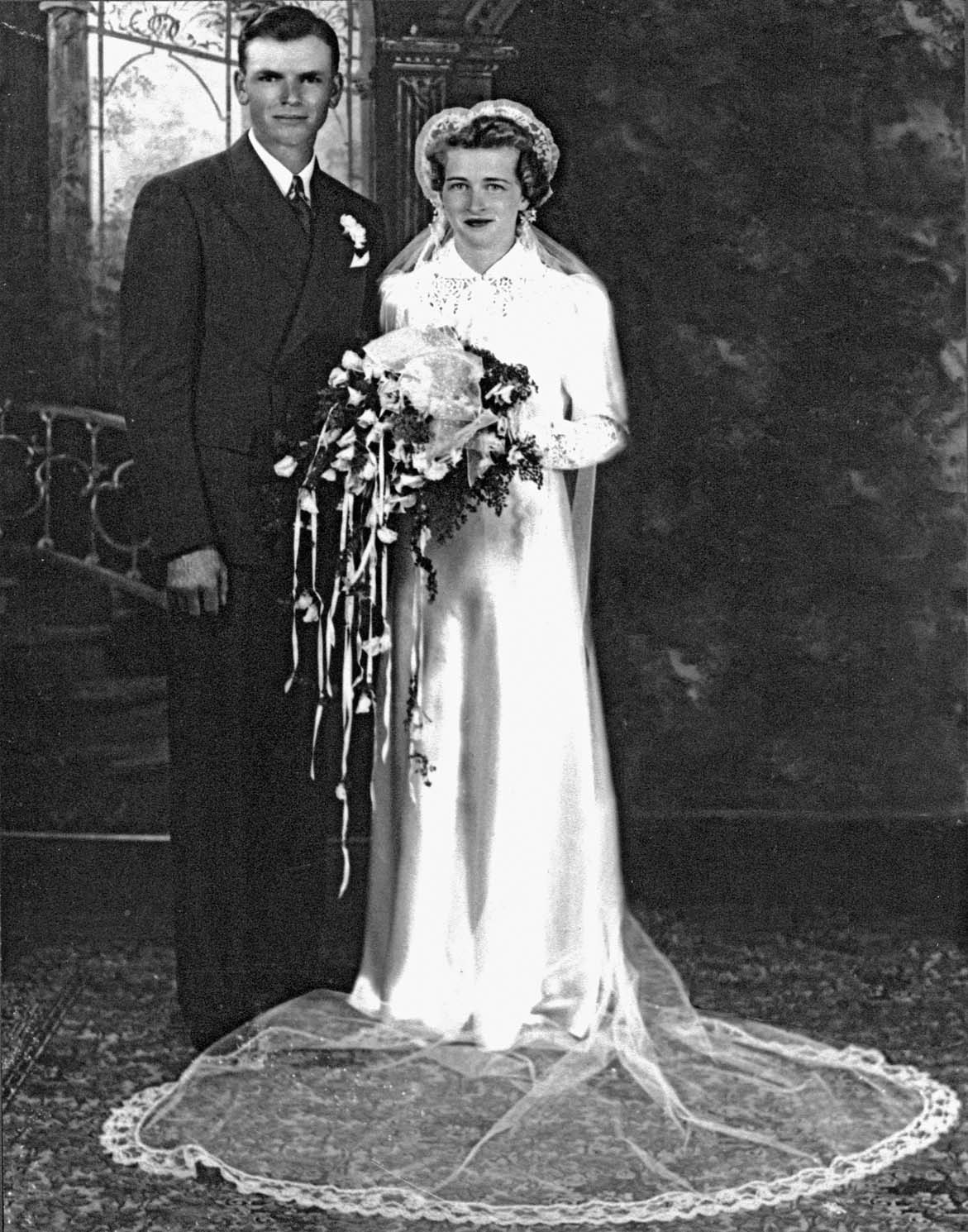 Arthur and Grace Link married on May 20, 1939.
Arthur and Grace Link were married for 71 years until his death in 2010. Theirs is a simple and unassuming tale of romance, which began in a quiet rural setting. But during Art's political career, the couple would go on to share an eventful life in the public spotlight as he rose from state legislator to U.S. congressman to North Dakota governor.
More than eight decades after saying "I do," the former North Dakota first lady donated her beautiful wedding gown to the State Museum collection on her 103rd birthday (Sept. 13, 2021). My team was thrilled to receive this wonderful addition to the collection.
What's the value of a wedding gown? This garment serves as an example of the wedding fashions of the time and was purchased off a store rack. It's also an important item to help tell the story of the culture and values associated with courting, weddings, and gender in the 1930s and 1940s. And, of course, it is a tangible and personal memento of the tender, lifelong romance of one of North Dakota's most well-known couples. At the time of the donation, I was honored to speak with Grace about her memories of their young romance, wedding day, and the lovely dress that she felt "uncomfortable" wearing.
Grace Johnson was 15 years old when the two met in 1934. Art was playing the violin in a band at a Farmers Union dance in Cartwright when Grace caught his eye on the dance floor. He asked one of her friends for her name, and soon he and Grace began dating. "I never really dated anyone else but him," she said.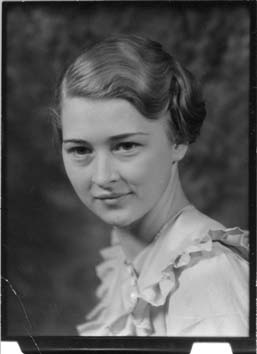 Grace Johnson as a junior in high school, 1935.
The two shared common backgrounds and interests. Both were raised on farms homesteaded by parents who instilled a strong work ethic. Both were born into musically gifted families and loved to dance polkas and waltzes. "One time he walked the railroad tracks from Charbonneau [where Art performed with his band] to Cartwright [near Grace's home] to the dance … because he knew I would be there. Afterward he walked back from the dance and had to work in the field." Art walked more than nine miles in each direction to dance with Grace that day.
During their five-year courtship, Grace graduated from high school and attended a business college in Aberdeen, South Dakota, before taking a job working for a farm real estate agent in Williston. She and Art married in 1939 at her childhood home, with 30 family members in attendance. The modest ceremony took place at a makeshift altar in a living room decorated with wildflowers. Her mother and a neighbor cooked a large dinner for the guests on an old kitchen cookstove. After the wedding, the newlyweds drove to Sidney, Montana, for a one-night stay because the demands of farm life trumped a honeymoon getaway. "Art was back in the field the next day," Grace noted.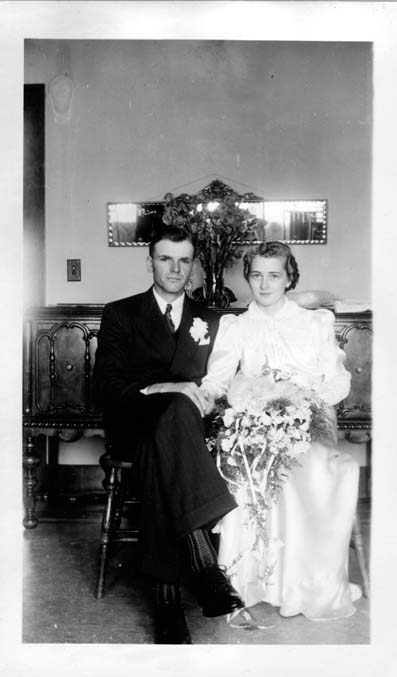 Art Link and Grace Johnson were wed at her parents' home.
At her wedding, the bride wore an elegant, form-fitting, silk satin gown with lace trim and silk-covered buttons. In an unusual twist, it was Grace's father who took her shopping and selected her gown at Hedderich's, a Williston department store. "My dad was the stylish one. He had an eye for that sort of thing," she said. Brides often relish wearing their wedding gowns for as long as possible on their big day to savor the moment but not practical Grace. "It wasn't what I was used to. I wasn't comfortable in it," she said. Wearing a "nice blue dress" for most of the day, Grace slipped into the gown only for the ceremony. Three weeks later, the couple hosted a wedding dance in Cartwright. Again, Grace wore the gown for her first dance with Art, then changed into a short dress "to be more comfortable."
Grace's beautiful 1939 dress is on exhibit in Fashion & Function: North Dakota Style at the State Museum in Bismarck. Our curatorial and exhibitions team just added the gown to the Wedding March section of Fashion & Function. Only a few feet away, a large image of Art and Grace on their wedding day is part of the display.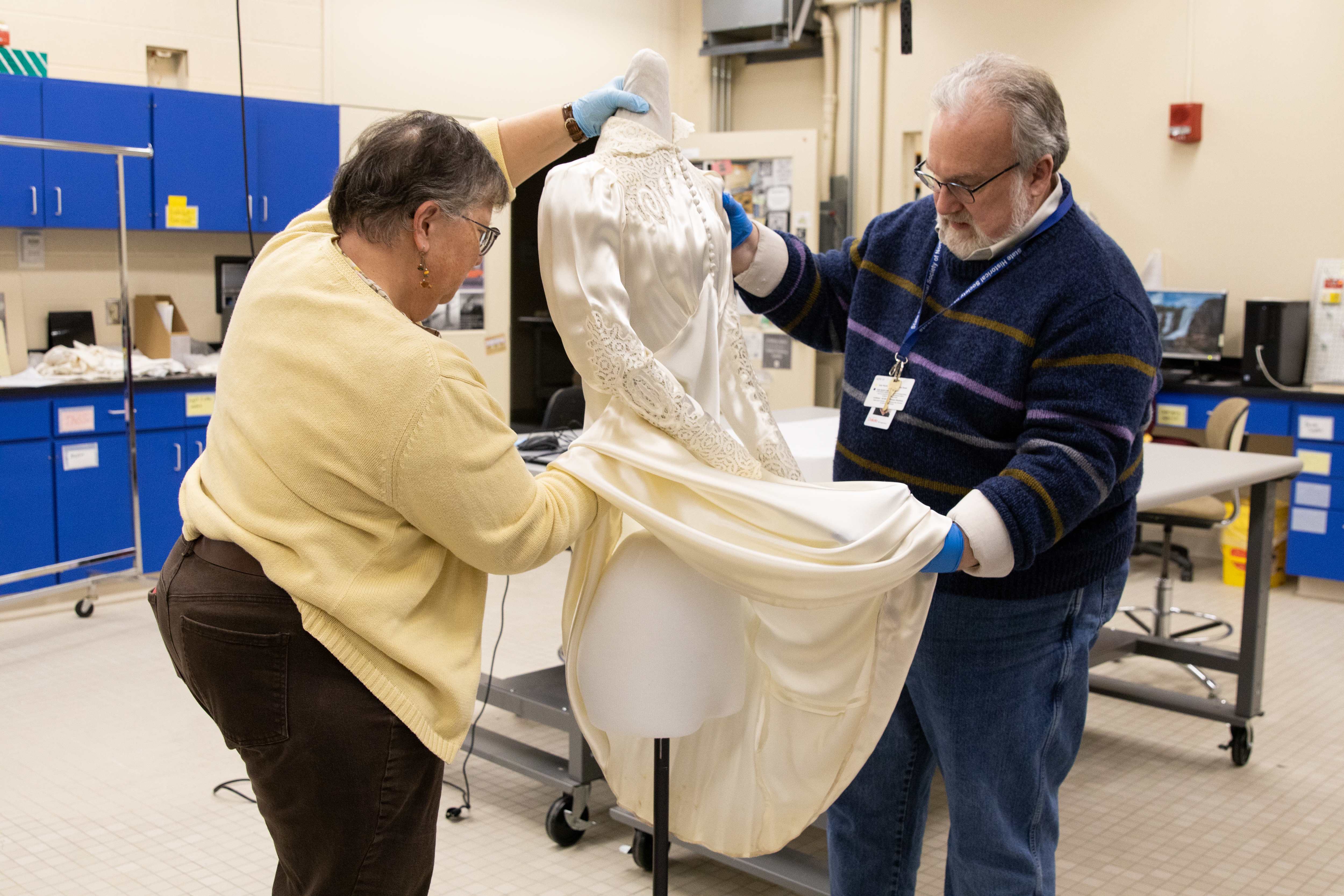 Curator of Collections Jenny Yearous and Exhibitions Manager David L. Newell carefully dressed a mannequin with Grace Link's 1939 wedding gown before adding the garment to Fashion & Function: North Dakota Style at the State Museum in Bismarck on December 17.
We had no inkling that this dress would be donated, so it is a happy coincidence to be able to pair the wedding photo with the gown. I invite you to stop in and view this dress. Now a museum artifact, this dress tells a uniquely North Dakota story of grit, courage, mutual respect, and a rise to national leadership—but at the heart of it all is a lasting love.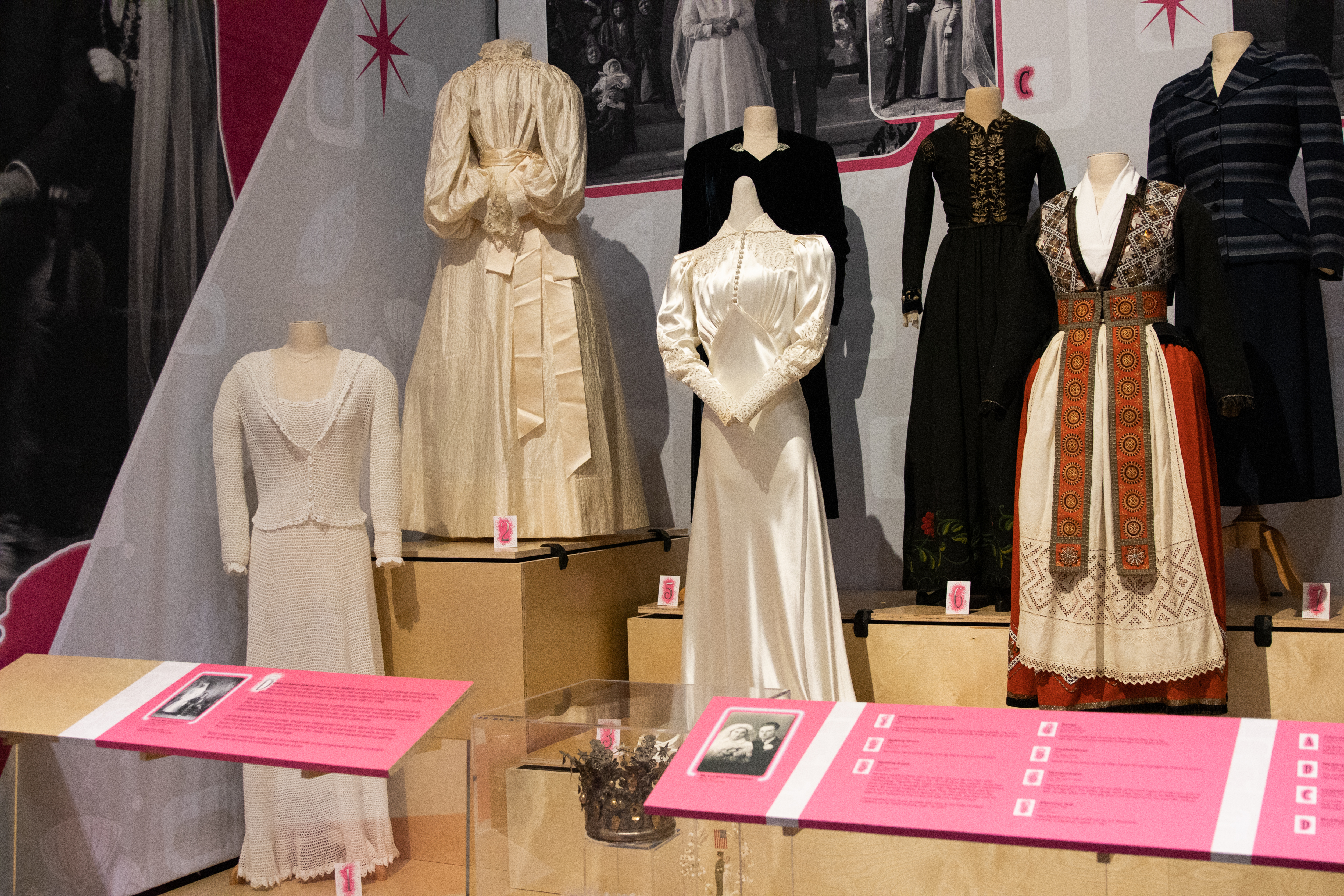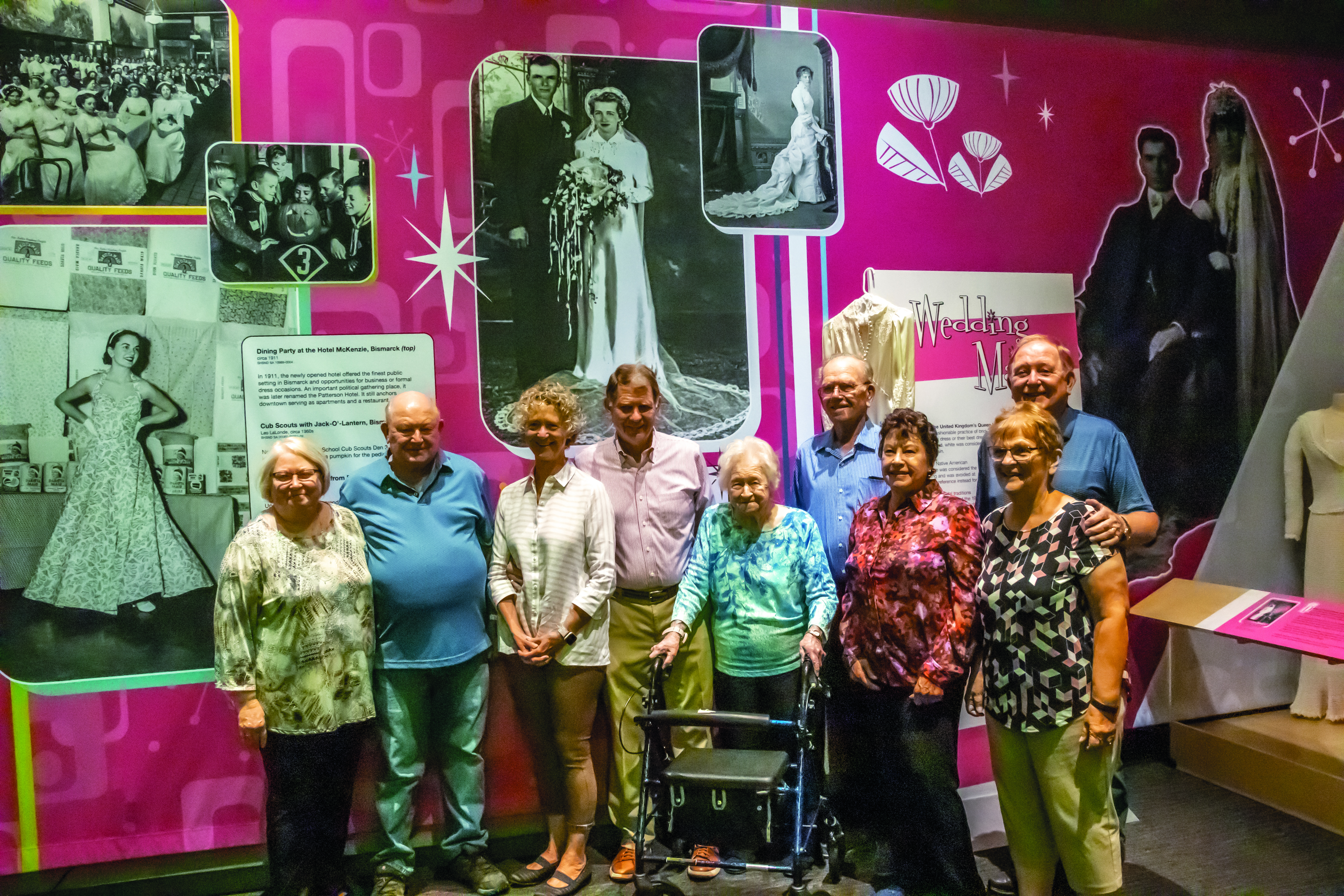 Most of Grace Link's children and their spouses were present for her gown donation on Sept. 13, 2021. As a special birthday treat, Foundation Director Marlo Sveen surprised Grace with her favorite lemon meringue pie.