History's Trustees - Foundation Partners
Together we are making a difference
More than 200 Trustees, nominated by governors and key supporters, partner with the Foundation in making the vision of North Dakota's Historical Society a reality. Trustees from across the state and around the nation pledge $500 per year to support membership development and other fundraising efforts. Without the participation of our Trustees, we would not have had the resources necessary to launch legislative initiatives and fundraising strategies for the expansion of the Heritage Center. With Trustee investments of time and finances, the Foundation has become a significant partner in accomplishing the mission of the State Historical Society.
Trustee Activities: Trustees are invited to special events and attend regional luncheons for updates on the vision and goals of the two organizations. Many Trustees are actively involved in projects while some participate only financially. Trustees serve in a manner that suits them.
If you love North Dakota and want to play a significant role in the effort to expand the history resources of our state, please consider becoming a History's Trustee. Join with former North Dakota governors, Society and Foundation board members, and the team of 200+ Trustees in discovering the satisfaction of being a part of this important network. You will be in good company. Together, we are making a difference!
Learn more about becoming a History's Trustee. Contact Dale Lennon at 701-222-1966 or dale@statehistoricalfoundation.org
Honorary History's Trustees
Families, organizations and significant leaders in our state have honored individuals by nominating them as Honorary History's Trustees. Family and friends show their support for the nominee by making donations in their name. A special interest in history or someone's love for North Dakota can be acknowledged in this very special manner.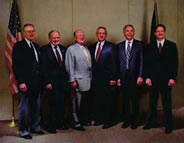 North Dakota's governors serve as Honorary History's Trustees, playing an important leadership role by supporting the dreams of the state's history agency.
Former governors William Guy, Arthur Link, Allen Olson, George Sinner, Edward Schafer, and John Hoeven attended the historic November 2001 forum celebrating the 20th anniversary of the North Dakota Heritage Center.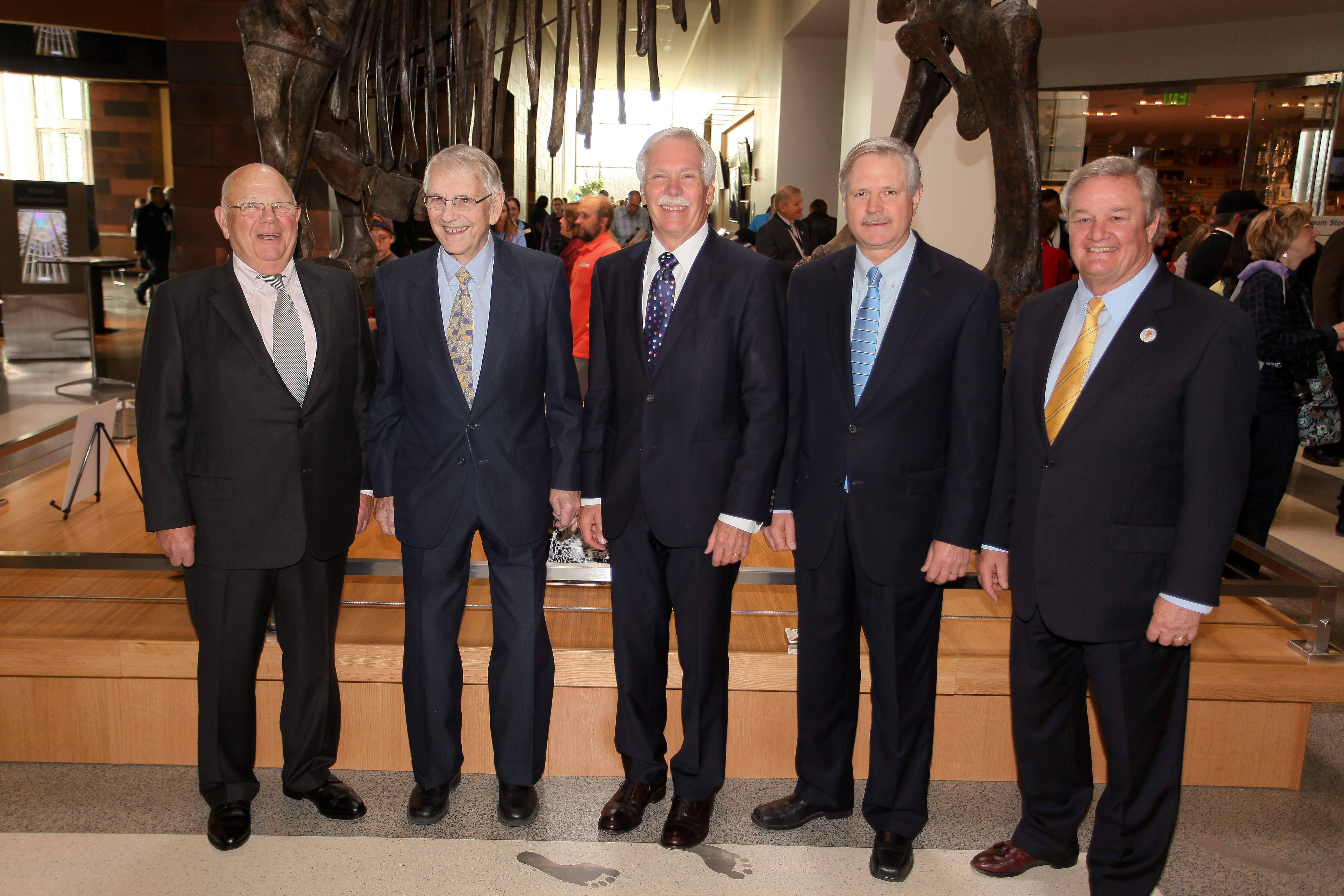 Governors Al Olson, George Sinner, Edward Schafer, John Hoeven, and Jack Dalrymple, were part of the Grand Opening Celebration of the Heritage Center Expansion on November 2, 2014.
Honorary Trustees
Sakakawea - Honored as the first Honorary Trustee by U.S. Representative Earl Pomeroy
Theodore Roosevelt - Nominated as Honorary Trustee by U.S. Senator Byron Dorgan
Governor William and Jean Guy
Governor Arthur and Grace Link
Governor Allen and Barbara Olson
Governor George and Jane Sinner
Governor Edward and Nancy Schafer
Governor John and Mikey Hoeven
Governor Jack and Betsy Dalrymple
Governor Doug Burgum and Katherine Helgaas Burgum
Ervin and Dorothy Bourgois - Honored by Dr. Sally Bourgois Pratt, East Lansing, MI
Adrian R. Dunn - Honored by wife Luella Dunn, Bismarck and son, W. Craig Dunn<
Audrey Oliver - Honored by Bob and Marilyn Schlobohm, Bismarck, ND
Senator I.E. "Esky" Solberg and Nellie Coad Solberg - Honored by daughters Kay Solberg Link and Jeanne Solberg Unruh
Sherman Quanbeck - Honored by wife Loretta Quanbeck and family
History's Trustees
Lawrence O. Aasen, Westport, CT
Gary I. Anderson, Mandan, ND
Mark A. Anderson, BlackRidge Bank, Fargo, ND
Senator John and Elaine Andrist, Crosby, ND
David R. and Janet Bailly, Fargo, ND
Mary and La Roy Baird, Bismarck, ND
Dr. Twyla Baker, New Town, ND
Emil and Marcia Baranko, Dickinson, ND
Don Barsness, President, EAPC Architects Engineers, and Pam Barsness Bismarck, ND
Basin Electric Power Cooperative, Paul Sukut, CEO and General Manager, Bismarck, ND
BNC National Bank, Jan Nelson, Bismarck, ND
Charles and Suellen Bateman, Grand Forks, ND
Julie Bechtel, former Publisher, The Bismarck Tribune, Bismarck, ND
Lorraine "Larry" P. Benidt Eden Prairie, MN
Claudia Berg and Robert Matz, Bismarck, ND
Gordon and Beth Berg, Devils Lake, ND
Glen and Nona Berg, Fargo, ND
Dr. Albert I. and Pat Berger, Grand Forks, ND
Anne-Marit Bergstrom, Devils Lake, ND
Richard and Luise Beringer, Grand Forks, ND
Patsy Beyer, Bismarck, ND
Wally and Joyce Beyer, Bismarck, ND
Carey and Cindy Bittner, Bismarck, ND
David and Cathy Bliss, Bismarck, ND
Dennis Boyd, Bismarck, ND
James and Kristen Bullis Family, LLLP, Fargo, ND
Bill and Dina Butcher, Bismarck, ND
Jocelyn Birch Burdick, retired U.S. Senator, Fargo, ND
Julie and Bradley Burgum, Casselton, ND
Greg Butler, President, Gremada Industries, West Fargo, ND
Duane Bye, Cambridge, MN
Connie Bye, Bismarck, ND
Robert L. and Sue Carlson, Jamestown, ND
Cass-Clay Creamery, Fargo, ND
Kevin L. Christianson, PACES Lodging Corporation, Fargo, ND
Audrey Cleary, Bismarck, ND
Tom Cllifford, retired President, University of North Dakota, and Gayle Clifford, Grand Forks, ND
Sara Otte Coleman, Bismarck, ND
U.S. Senator Kent Conrad and Lucy Calutti, Bismarck, ND
Patricia Scheel Crary, Fargo, ND
Howard and Ann Dahl, Amity Technology, LLC, Fargo, ND
John and Hannelore Davis, Jr., Bismarck, ND
Marilyn Davis, Bismarck, ND
Joel A. Davy, JLG Architects and Engineers, and Deb Davy, Fargo, ND
Kirk E. and Stephanie Dean, Fargo, ND
Stevan Dewald, Lightowler Johnson Associates, and Connie Dewald, Fargo, ND
Cordell and Mary Anderson Dick, Parkville, MO
Warren and Irene Diederich, Industrial Builders, Inc., Fargo, ND
Wallace J. and Grace E. Dockter, Walnut Creek, CA
Bruce and Lisa Dolezal, Dickinson, ND
Lorraine Dopson, Bismarck, ND
Darrell and Kathy Dorgan, Bismarck, ND
Luella Dunn, Bismarck, ND
Bob Eastgate, Eastgate Funeral Service, Bismarck, ND
Austin G. Engel, Bismarck, ND
Stan and Donna Engel, Cedar Falls, IA
Jon and Eleanor Erickson, Minot, ND
Larry and Claryce Erickson, Minot, ND
Chuck L. and Janet M. Esser, Bismarck, ND
Marvin A. Evenson, Sioux Falls, SD
Ralph and Naida Feland, Mandan, ND
Patrick M. Finken, retired President, Odney Advertising, Bismarck, ND
Foss and Associates, Fargo, ND
Helen Foughty, Devils Lake, ND
C. Wayne and Margie Fox, Vonore, TN
Joe and Sandi Frenzel, Dickinson, ND
Betty Froeschle, Lake Havasu City, AZ
Jim Fuglie and Lillian Crook, Bismarck, ND
Don Gackle, former Chairman of the board, BHG, Inc., and Ardis Gackle, Garrison, ND
George "Woody" Gagnon, Bismarck, ND
Gate City Bank, Steve J. Swiontek, Chairman, President, and CEO, Fargo, ND
Gereld and Marian Gerntholz, Valley City, ND
Bruce Q. Gjovig, Director, Center for Innovation, UND, Grand Forks, ND
Representative Eliot Glassheim , Grand Forks, ND
Mary and Al Golden, Golden Oil Company, Bismarck, ND
Gary and Claudette Grandbois, Fargo, ND
Cornelius Grant, former Director, North Dakota Rural Development, Bismarck, ND
Patricia Mann Grantier, Mendota Heights, MN
Calvin and Cheryl Grinnell, New Town, ND
Dr. Gerald H. Groenewold, former Director, EERC, and Senator Connie Triplett, Grand Forks, ND
Michael D. and Lois Gustafson, Kindred, ND
Tim and Joey Haas, Houston, TX
E. Bruce Hagen, Bismarck, ND
Greg and Kathy Hansen, Fargo, ND
Patricia K. Hansen, Fargo, ND
Armen M. and Connie E. Hanson, Farmers Union Insurance, Devils Lake, ND
Mary Broderick Harris, Bismarck, ND
Ruth Dahlgren Hartman, Ellensberg, WA
C. Edward and Faye Hasche, Bismarck, ND
Joe and Florence Hauer, Bismarck, ND
Donald and Glenda Haugen, Fargo, ND
Carmen Hay, Bismarck, ND
Craig and Llonna Helenske, Fargo, ND
Dr. Warren and Rose Marie Henke, Bismarck, ND
David Heskett, former CEO and chairman of the board, MDU Resources, Bismarck, ND
Dennis and Renee Hill, Bismarck, ND
Constance Hofland and Dr. Craig Johnson, Bismarck, ND
Larry Dopson and Christine Hogan, Bismarck, ND
Brent Holman, Serkland Law Firm, and Maureen Holman, Fargo, ND
Dean Hornbacher, retired President, Hornbacher's Foods, Fargo, ND
Ray and Beverly Horne, Fargo, ND
Robert M. and Deanne L. Horne, Fargo, ND
Gina Hruby, Bismarck, ND
Sandra Hruby, Mandan, ND
Harvey Huber, President, Stutsman County State Bank, and Kathy Huber, Jamestown, ND
Niles Hushka, retired CEO, Kadrmas, Lee and Jackson, Bismarck, ND
Industrial Builders, Inc., Donn Diederich, Fargo, ND
Gene and Sue Jackson, Dickinson, ND
Dr. Thomas Jacobsen, West River Health Hettinger Clinic, and Jo Ann Jacobsen, Hettinger, ND
Gary Jacobson, Mandan, ND
Alvin A. and Kathy Jaeger, Bismarck, ND
Illona A. and Paul C. Jeffcoat-Sacco, Bismarck, ND
Peter and Pamela Jerome, Devils Lake, ND
Frank Jestrab, Gaithersburg, MD
Chris and Bonnie Johnson, Decorah, IA
Dennis and Kathleen Johnson, Watford City, ND
Jack and Betty Johnson, Fargo, ND
Nancy Jo Johnson, Fargo, ND
Kim Jondahl, Bismarck, ND
Glen I. and Trudy E. Jorde, Clinic Pharmacy, Devils Lake, ND
Myron and Ellen Just, St. Paul, MN
Ruth Just, St. Paul, MN
Joyce Kaiser, Williston, ND
Marvin and Jane Kaiser, Prescott, AZ
Dr. Gaylord and Cindy Kavlie, Bismarck, ND
Harris and Ardyth Kenner, Kenner Law Office, Minot, ND
Alvin H. Kenner, Alvin Kenner Farm, Leeds, ND
Dr. Marcia S. Kierscht, Alexandria, VA
Jean Kiesau, Grand Forks, ND
Olivia H. Kingree, Devils Lake, ND
Ed and Sheila Klecker, Bismarck, ND
Richard and Audrey Kloubec, Fargo, ND
Loren Kopseng, Bismarck, ND
Mike Kraft, former CEO, Economart of Williston, Williston, ND
Dr. Charle Kupchella, former President, University of North Dakota, and Adele Kupchella, Grand Forks, ND
Barbara S. Lang and A. Ruric Todd, III, Jamestown, ND
Dr. Tyrone and Rita Langager, Minot, ND
Heidi Heitkamp and Dr. Darwin Lange, Mandan, ND
Diane K. and Gregory L. Larson, Bismarck, ND
Donovan and Hidie Larson, Fargo, ND
Frank and Jo Andrea Larson, Valley City, ND
Joel and Carol Lees, Buchanan, ND
James and Margaret Leet, Newton, CT
Robert and Carol Leevers, Devils Lake, ND
Claus and Marcia Lembke, Bismarck, ND
Karl and Michelle Lembke, Bismarck, ND
Dale Lennon, Executive Director, SHSND Foundation, and Christine Lennon, Bismarck, ND
Reuben and Clarice Liechty, Jamestown, ND
Silas and Martha Liechty, Jamestown, ND
Jonathan and Michelle Link, Arlington, VA
Kay Solberg Link, Bismarck, ND
George and Marilyn Loegering, Casselton, ND
Richard and Gloria Lokken, Minot, ND
John Marshall, Director, Wild Rice Investments, LLC, and Sharon Marshall, Grand Forks, ND
Robert L. Mason, Fargo, ND
Roald and Marilyn Mattson, Minot, ND
Jim and Janet Maxson, Minot, ND
David and Linda McAdoo, Bismarck, ND
Dr. Joe McCann, former President, Williston State College, and Nila McCann, Williston, ND
Barbara A. McCormick, Devils Lake, ND
Jon and Jeannen McMillan, Fordville, ND
MDU Resources Foundation, represented by Rita O'Neill, Bismarck, ND
Irving L. Melroe, Fargo, ND
Sylvan N. and Caroline N. Melroe, Fargo, ND
Betty Mills, Bismarck, ND
Matthew Mohr, President, Dacotah Paper Company, Fargo, ND
Dennis R. Murphy, Bismarck, ND
Hollis and Theodora Nappen, Mandan, ND
Valerie J. Naylor, former Superintendent, Theodore Roosevelt National Park, Medora, ND
Virginia A. Nelsen, former Executive Director, SHSND Foundation, Bismarck, ND
Chester E. Nelson, Jr. Bismarck, ND
Eugene and Connie Nicholas, Cando, ND
North Dakota Farmers Union, Mark Watne, President, Jamestown, ND
North Dakota Optometric Association, Nancy Kopp, Executive Director, and Dr. James Woodward, Bismarck, ND
North Dakota Rural Development, Bismarck, ND
Diane Odegard, Grand Forks, ND
Ronald D. and Karen Offutt, R. D. Offutt Co., Fargo, ND
Jack and Velma Olin, Dickinson, ND
Paul and Nancy Olson, Fargo, ND
Merlan E. Paaverud, former Director, State Historical Society of ND, and Kathy Paaverud, Bismarck, ND
John Q. Paulsen, Fargo, ND
Roger E. Persinger, Bismarck, ND
Robert and Peggy Petersen, Bismarck, ND
Leif Peterson, retired manager, Human Resources, Tesoro Company, Mandan, ND
Bill Peterson, Director, State Historical Society of ND, and Susan Peterson, Bismarck, ND
Majorie and Sig Peterson, Almont, ND
Darrell and Marlette Pittman, Bismarck, ND
Noel R. and Mary F. Poe, Kanab, UT
Fletcher H. and Helen Poling, Bismarck, ND
Dr. Robert Potts, retired ND Chancellor of Education, Bismarck, ND
Sally Bourgois Pratt, East Lansing, MI
Douglass A. Prchal and Tara S. Holt, Bismarck, ND
Peggy Puetz, Bismarck, ND
Loretta Quanbeck, Mandan, ND
Jeannette and Marcus Radig, Bismarck, ND
Jerry Renk, former President, BNC National Bank, Bismarck, ND
Mark and Carole Richman, Coldwell Banker Commercial First Realty, Fargo, ND
Thomas J. and Ann Riley, Fargo, ND
John and Kathleen Risch, Bismarck, ND
Terrance M. Rockstad, Bismarck, ND
Dona Rockstad, Bismarck, ND
Larry A. and Faye Rolfson, Bismarck, ND
Harold and Marilyn Rolfsrud, Keene, ND
T.J. Russell, Cloverdale Foods Company, Mandan, ND
Dr. Wayne Sanstead, former >Superintendent of Schools, State of ND, and Mary Jane Sanstead, Bismarck, ND
Joe and Katherine Satrom, Bismarck, ND
Arlene Saugstad, Minot, ND
James L. and Louise Schiele, Devils Lake, ND
Bob and Marilyn Schlobohm, Bismarck, ND
William and Kay Schlosser, Bismarck, ND
Kelly Schmidt, Fargo, ND
Dalles E. and Sue Schneider, Bismarck, ND
Bill and Alice Schott, Bismarck, ND
Leah Schott, Mandan, ND
David and Kristi Schott, Sugarland, TX
Earl and Yvonne Setterlund, Mandan, ND
Dave and Becky Skalsky, Bismarck, ND
Gerald and Marilyn Skogley, Bismarck, ND
Dr. Doris Slaaten, Minot, ND
Thomas and Julie Snortland, Sharon, ND
James E. and Gail Sperry, Bismarck, ND
David A. and Connie M. Sprynczynatyk, Bismarck, ND
Paul J. Steffes, Steffes Engineering, Dickinson, ND
Daniel Steneberg, Watford City, ND
Jan Ulferts Stewart, Fargo, ND
Louise Stockman, Vancouver, WA
DeWayne and Mona Streyle, United Community Bank, Leeds, ND
Chuck Stroup, Hazen, ND
Wayne A. Stroup, Garrison Bank and Trust, Garrison, ND
Marlo Sveen, former Executive Director, SHSND Foundation, and Jane Sveen, Inver Grove Heights, MN
Tesoro Foundation, Dave Schollars, Mandan, ND
Ardell Tharaldson, Bismarck, ND
The Bismarck Tribune, Bismarck, ND
Theodore Roosevelt Medora Foundation, Randy Hatzenbuhler, Executive Director, Bismarck, ND
Cedric and Mary Theel, Bismarck, ND
Lloyd Thompson, Chairman of the Board, Border States Paving, Fargo, ND
Enoch and Madeline Thorsgard, Northwood, ND
Karen and Alan Traeholt, Bismarck, ND
Senator Jack and Jane Traynor, Devils Lake, ND
Thomas and Diane Turck, Bismarck, ND
Michael B. Unhjem, Fargo, ND
Jeanne Solberg Unruh, Laramie, WY
USDA – US Forest Service, Dakota Prairie Grasslands, Bismarck, ND
Dr. Lee Vickers, former President, Dickinson State University, and Deanna Vickers, Dickinson, ND
Joan and John Von Rueden, Bismarck, ND
Don and Gladys Walz, Bismarck, ND
Janet and Leo Wanzek, West Fargo, ND
Richard and Mary Warner, Fargo, ND
Darlene and Clair Watne, Minot, ND
Richard W. Weber, Bismarck, ND
Susan E. and Robert O. Wefald, Bismarck, ND
Gerridee Wheeler, Bismarck, ND
Robert and Betty Wheeler, Minot, ND
Andrea Wike, assistant Director, SHSND, and Kelly Wike, Bismarck, ND
Gary M. and Mavis Williamson, Minot, ND
Mary Faith Young, Jamestown, ND
Francis Ziegler, Bismarck, ND
Mark Zimmerman, Bismarck, ND