SHSND Foundation News
Upcoming Fashion Exhibit Includes Objects from the Jewish Faith
Posted 12/09/20 (Wed)
By Melissa Thompson, Head of Curatorial Services, Audience Engagement & Museum Team
For those of you who do not know me, I am head of curatorial services with the Audience Engagement & Museum team. Raised in a northern suburb of Milwaukee, Wisconsin, I grew up attending a large Reform Judaism synagogue with about a thousand members. There was no shortage of Jewish people in the north shore suburbs, and the area boasted many synagogues. When I moved to Bismarck almost 13 years ago, however, it was a struggle to meet other Jewish people. I eventually found a group but was surprised to discover that a town the size of Bismarck only had about 15 Jewish people. In fact, the last rabbi left Bismarck in the early 1950s!
The upcoming Fashion and Function: North Dakota Style exhibit includes a section about faith. We will include four objects from Temple B'ne Ephraim, formerly located on North Fifth Street in Bismarck. The agency collected these items from the temple in 1979 before it closed.
During this week, which marks the start of the Hanukkah celebration, I'll highlight these items. One is a red silk velour curtain with brass- and silver-colored metallic trim and embroidery. The curtain is called a parochet, or the veil of the holy ark. The parochet covers the ark, where the Torahs are stored when not in use. It is decorated with the Ten Commandment tablets flanked by lions and topped with a crown. Across the bottom is embroidered, "DONATED BY // MR. & MRS. AARON GOLDBURG."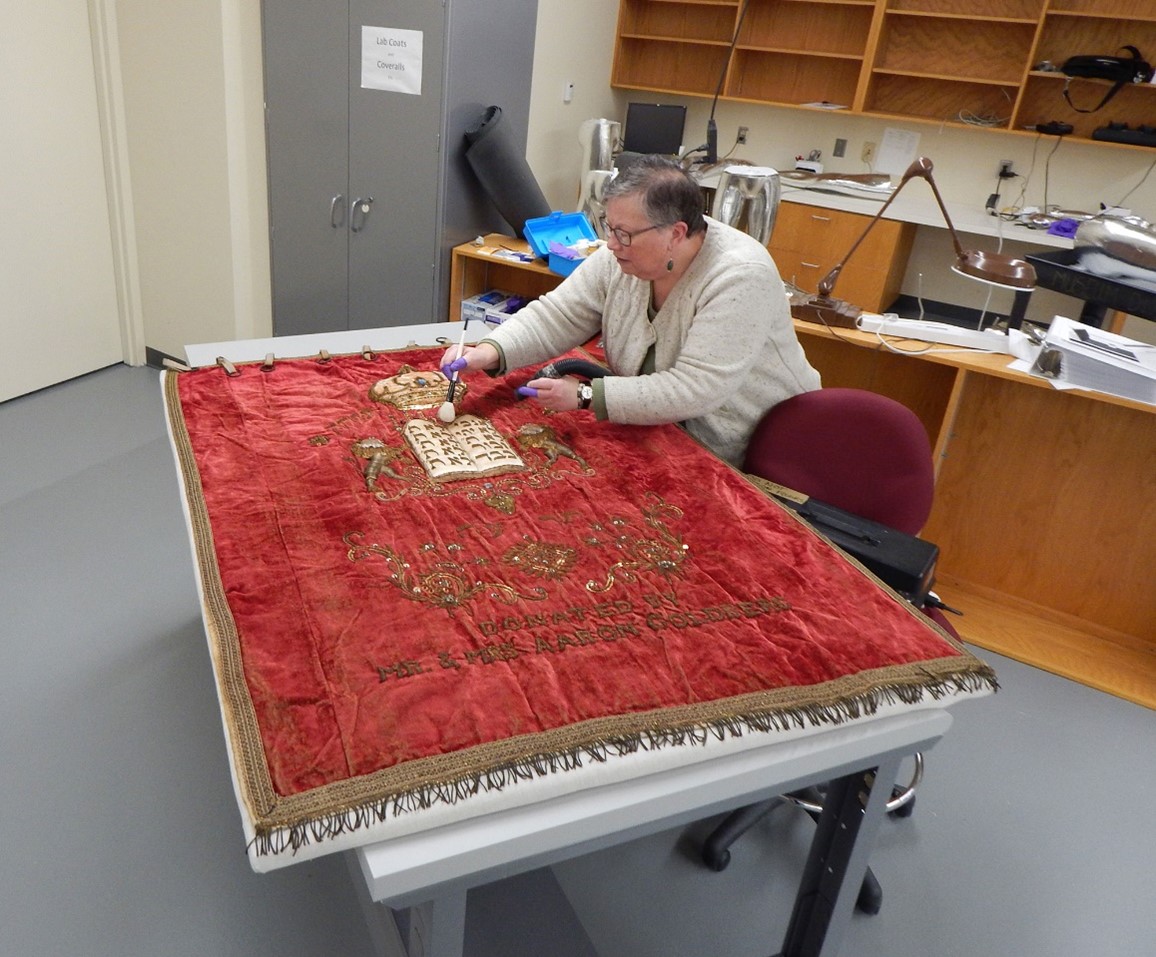 Jenny Yearous, curator of collections management, prepares the curtain for display in Fashion & Function.
SHSND 1991.186.16
Additional items include a tefillin set and the bag in which it is stored. Tefillin consists of two boxes containing prayer parchments attached to leather straps. These are bound to the arm and forehead before prayer. The obligation to wear tefillin as part of a Jewish person's relationship to God is found in Exodus and Deuteronomy in the Bible. The tefillin bag in our museum collection is velvet, with Hebrew letters in gold metallic spelling "tefillin."
SHSND 1991.186.5 & 1991.186.7-8
Judaism is one of many religions practiced in North Dakota. As to be expected, our collections reflect the faith traditions of the majority population. We have a plethora of Catholic and Lutheran religious-related artifacts but are in search of objects representing religions such as Judaism, Islam, and Buddhism. Our goal is to represent all aspects of the North Dakota population. As we welcome a more diverse demographic into the state, our goal is to collect meaningful objects from all.
If you have religious items or clothing to be considered as donations to the State Historical Society, go to online donation form, or for more information, contact Melissa at methompson@nd.gov or Elise at edukart@nd.gov.
Next article:
Once a Bennie, Always a Bennie
Previous articles:
Hats and Hunting: Fashion and Feathers in Our Museum Collection
Western Symbols Tell Stories of Cattle Culture
Red Berry Woman, Red Berry Style
Spooktacular Fashion: Four Vintage Halloween Masks
Wouldn't It Be Wunnerful, Wunnerful
An Army of Aluminum Mannequins Takes Shape
Miss America's Gown & Wonder Woman Boots Have Arrived!
Fashion & Function: North Dakota Style